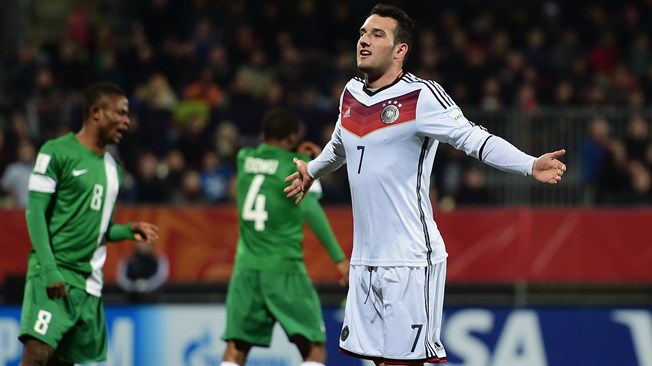 By Chris Nomjov
Nigeria's Under 20 national team, the Flying Eagles have been eliminated from the ongoing FIFA Under-20 World Cup after losing their second round tie by a solitary goal to their German counterparts.
Werder Bremen attacker, Levin Öztunal?'s first half strike was all the European champions needed to send the African champions packing, despite their brave showing in the second half of the encounter.
The game between the team parading the youngest team to the championship (Nigeria) and the oldest team (Germany) lived up to its billing – but inability to convert begging chances was the former's major undoing.
Ironically, the German team paraded three half Nigerians, among which were caption, Kevin Akpoguma and midfielder Hany Muktar.
Joshua Enaholo's call to duty in the second minute of the encounter was a strong indication that Frank Wormuth's side were not in the game for a jamboree – as they attacked the Africans massive and in the process won two corner kicks and four free kicks within the space of 12 minutes.
The Flying Eagles were lucky in the fifth minute as Onyinye Ndidi almost scored into his own net after his header narrowly missed the goal post in his attempt to clear Marc Stendera's corner kick.
However – after 11 minutes got their first chance at goal with Taiwo Awoniyi failing to connect from Saviour Godwin's low cross after his sizzling run down the left side of the German backline.
In the 19th minute, Germany took the lead. Kingsley Sokari who was under pressure lost the ball to Stendera, passed to Oztunali at the edge of the box to fire a powerful left-footed shot home to the dismay of the west Africans.
Three minutes later, Hany Mukhtar failed to double his side's lead as his effort was saved from Enaholo who was forced to make four fine saves in the first half.
Mukhtar had another good chance on the hour after some great skill from Oztunali down the right, but he wasn't able to get any real power behind his shot and Enaholo was out to save briskly.
On resumption of the second half, Manu Garba's men gushed to action as they sought redemption. They had two free kicks which were cleared by the towering German defenders who never for once gave Awoniyi a breathing space.
Flying Eagles – profiting from the removal of Stendera mounted pressure on Wormuth's tactically disciplined team, yet could not find the back of the net. The introduction of Isaac Success brought back life to the Nigerian team but that could not save them from bowing out of the competition.