Buhari Jets To Germany For G7 Meeting, Confusion At Aso Rock' As President Fails To Move In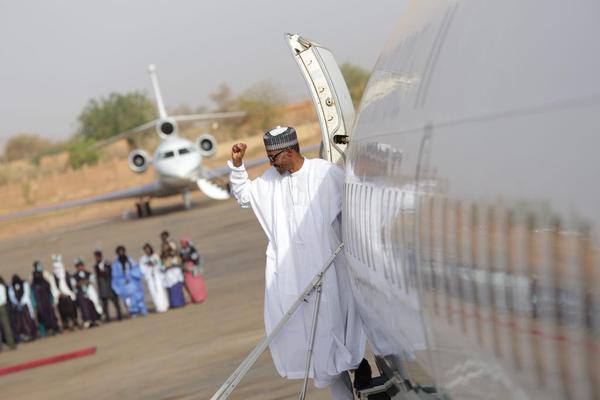 Estimated Reading Time: <1
by Deji Abiodun & Cable 
Less than a week after embarking on a trip to Chad and Niger Republic for different visits, President Muhammadu Buhari will leave Abuja today to attend the G7 Summit, scheduled to take place in Bavaria, Germany.
No appointment has so far been announced since his first week in office, both Buhari and Yemi Osinbajo his vice president are yet to settle into the presidential villa, the country's seat of power.
A statement by the Senior Special Assistant to the President on Media and Publicity, Garba Shehu, yesterday, said invitation was extended to Buhari by German Chancellor Angela Merkel even before he was sworn in on May 29.
"The invitation is a clear indication of the international community's willingness to cooperate with the new government of Nigeria," he said.
While Buhari has been performing his duties at the defence house, official residence of the president-elect where he met with service chiefs on Wednesday, Osinbajo has been operating from his private residence in the Asokoro area of Abuja.
Buhari does not reside at the defence house, situated in the Mataima area of the federal capital territory (FCT). He only hosts visitors there, and returns to his private residence at Aso Drive, still in the FCT.
A state house correspondent told TheCable that the current development is affecting a lot of things.
"There is so much confusion at the moment. We don't go to the villa anymore. The key staff like security, protocol and media have resumed at defence house," he said.
"We just resume and hope to cover one assignment or the other. It is not a conducive place to hang around because there are not enough seats. Nothing happened at the defence house today (Friday).
"We were told to go to his [Buhari's] residence at Aso Drive for some assignments only for us to get there to discover that they had finished. We went to the mosque after we left the house and it has been very quiet since then.
"We heard this might continue for another two weeks or more."
Also there's an ongoing crisis raging within the Party as some of the Chieftains of the party are said to have hijacked the process of electing leaders of the National Assembly to Lead the both Houses.
From Dogara to Saraki, the mock primary conducted is seen as a Sham being spearheaded by Chief John Oyegun on the orders of Bola Ahmed Tinubu, "following Buhari's absence from the scheme of things, the party seems to be headed for destruction", a source tells NewsWireNGR.