How Angry APC Supporters Beat Up Daily Trust Reporter To Coma For Writing About Buhari & Governor Al-Makura (Photos)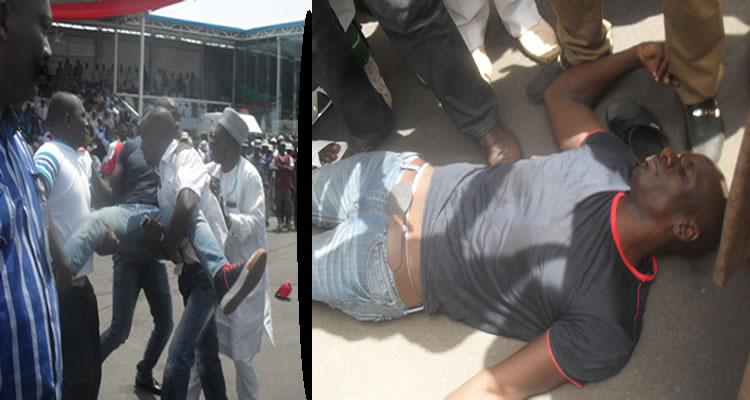 Estimated Reading Time: <1
by Musa Abdullahi
The Nasarawa State correspondent of Daily Trust, Hir Joseph was attacked by armed thugs in the presence of Governor Umaru Tanko Al-Makura, just as the governor was taking the oath of office in Lafia, yesterday.
It was learnt that the thugs were angry over an analysis the reporter made on President Muhammadu Buhari and Governor Al-Makura recently.
It was also gathered that the thugs also accused the reporter known as Mr. Hir Joseph of writing unwanted reports in the state.
Some of the thugs whose number continued to increase, woe white T-Shirts with the inscription: TA'AL, the short for Tanko Al-Makura, a popular campaign slogan of the governor.
Two thugs marched to the reporter while he standing with his colleagues by the elevated platform where the governor was taking the oath.
"They ordered me to follow them. I politely asked if there was any problem. There was no answer from any of them. Instead, they pounced on me, and lifted me unto their shoulders and made to take me away," the reporter said afterwards.
The thugs dragged him metres away before officers and men of the police, and Nigerian Immigration Service (NIS), led by the state Police Public Relations Officer (PPRO), ASP Umaru Ismaila stormed in on them, and tried to force the reporter from their grip.
Reporters, who were present at Lafia Square, venue of the inauguration, said the thugs grew in number, as they dragged their colleague, smashing him in the process, until he was unconscious.
Journalists who tried to take photographs of the attack on their colleagues were accosted by the Chief Press Secretary (CPS) to the governor, Mr. Yakubu Lamai, who was also sighted in a fisticuff with some security operatives, who snapped the scene with their phones.
"Instead of try to help the reporter, who was crying for help, the governor's CPS was trying to block us from taking photo shots. He even attempted snapping our phones and cameras from our hands," a colleague of Hir said.
Some reporters were threatened to leave the venue of the inauguration immediately.
The reporter was rushed to a nearby hospital, by a team of personnel of the Red Cross, who blare their ambulance siren, to pave the way out of the crowd of people at the venue of the inauguration.
The incident happened at about 11:28am, before the governor, and two of his predecessors, as well as other prominent figures in the state, who graced the occasion.