Delta Governor, Emmanuel Uduaghan Allegedly Embezzled N200 Billion Appropriated To State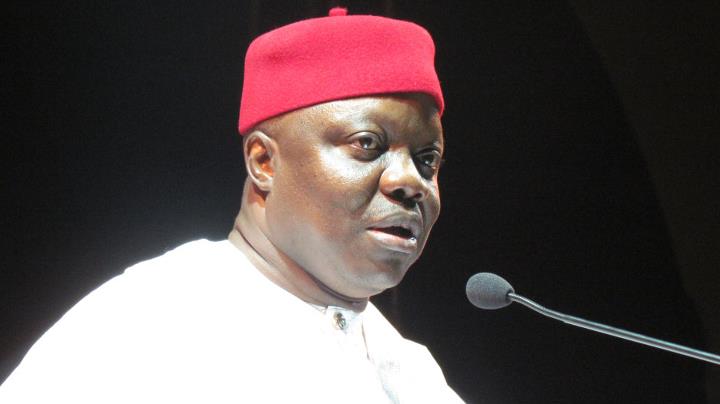 Dr. Emmanuel Uduaghan has denied allegations by a group who accused him of embezzling over N200bn which was appropriated to the Delta State Oil Producing Areas Development Commission (DESOPADEC).
The group, under the aegis of Delta Youths for Good Governance and Anti-Corruption and Integrity Forum led by Comrade Prince Kpokpogri, had alleged that the Governor had embezzled the fund and was speeding up plans to scrap the commission before leaving office on May 29, 2015.
The group, which has membership sprawling over 200, besieged the Delta State House of Assembly calling for a halt to the bill, also indicted Speaker of the House, Rt. Hon. Peter Onwusanya, saying he connived with the Governor to borrow N40bn bond which was allegedly approved by the Speaker on behalf of members.
But Governor Uduaghan, speaking through his Communications Manager, Paul Odili, said the allegations were false and mischievous, just as he described the group as a group with ulterior motive to tarnish Uduaghan's image in the state.
Odili said "people are just heaping all kinds of allegations against the person of the Governor", adding "how can the governor take such huge amount of money? It is cheap blackmail because the governor has the interest of Deltans at heart and he cannot do that. That allegation is ridiculous and from an ignorant mind".
On the issue of a bill which was purportedly aimed at hastily scrapping the commission as a way of cover up, Odili said the Governor never sent a bill to the State House of Assembly to scrap DESOPADEC, but the bill the governor sent was to reform and strengthen the commission.
He said the outgoing Governor's intention is to reform the commission so that it will benefit Deltans more than ever before, saying "some persons deliberately hate the governor for no just cause, not many people want change. They are just trying to create confusion for the governor and the state".
He added that it would be on record that the governor attempted reforming the commission but a group of disgruntled elements fought against the good move of the governor.