Pacquiao Slammed With A Lawsuit For Not Reporting Shoulder Injury Before Vegas Fight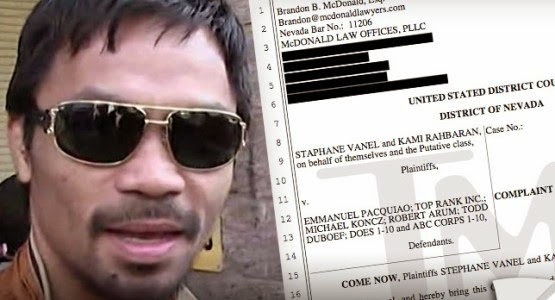 Estimated Reading Time: <1
by Abang Veronica
Some aggrieved fans of the #MayPac fight who were in support of Manny Pacquiao, after hearing about his shoulder injury has hit the fighter and his fight promoters with a class action lawsuit. This set of people claim he screwed fans, Pay-per-view buyers and gamblers out of serious money by not disclosing his shoulder injury before the Mayweather fight, TMZ reports.
TMZ Sports has obtained the lawsuit filed in federal court in Nevada … in which Stephane Vanel and Kami Rahbaran are suing on behalf of a class that feel cheated.
In the suit,  Vanel and Rahbaran claim they are fighting "on behalf of all persons who purchased tickets; purchased the pay-per-view event; or who wagered money on the event." The plaintiffs are suing Pacquiao, Bob Arum, Top Rank Boxing and others for consumer fraud — and they're demanding at least $5million in damages.
Who knows, Pacquiao might just win this one.