Military Nab Boko Haram Food Vendor And Rescue 260 Women From Threat Of Terror Group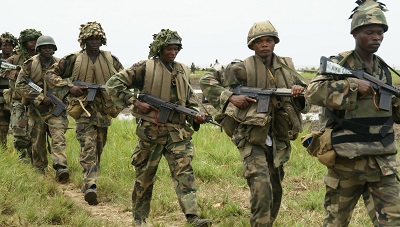 Estimated Reading Time: <1
By Chris Nomjov
The Defence Headquarters reports that soldiers of the Nigerian Army have arrested a man, who, it believes, supplies food, fuel and other necessities to terror group, Boko Haram in its enclaves in the North Eastern part of the country.
The yet to be identified  man who specialises in supplying fuel and food to terrorists was apprehended yesterday morning in Daban What a, within the suburbs of Bags, Borno State . The military intelligence had been trailing him till he was eventually trapped in the early hours of Sunday. He is presently undergoing  interrogation.
In another development, troops on patrol yesterday, located 260  women and children in the outskirts of  Chalawa village in  Adamawa state, where they had been  held up, trying to escape from  terrorists. They have now been conveyed back  to their various  communities  in  Madagali, after undergoing the normal security profiling.
Some of them disclosed  that they had to abandon their homes to escape from the terrorists when  Madagali came  under  attack, while others were actually abducted. Thankfully, the terrorists were sacked from the Madagali  recently.
A good number of terrorists died in an encounter twith troops; who caught up with them as they fled  prior to the recovery of the women and children. Some of the terrorists still managed to escape with varying degrees of gun shot wounds. Others who were captured are now being interrogated by intelligence officers.
Among the items recovered were, A machine gun, some rounds of ammunition, as well as some motorcycles and bicycles were also captured from the terrorists. A member of the vigilante group serving as ?uide to the troops was however wounded.
Meanwhile, the offensive against Boko Haram in Sambisa forest continues, as troops are methodically  searching every aspect of the expansive  terrain.