Enugu Assembly Serves Impeachment Notice On Governor Sullivan Chime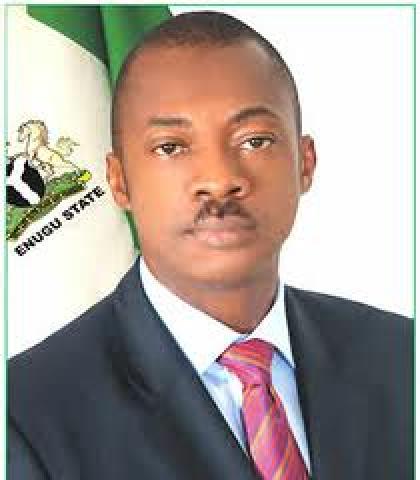 Estimated Reading Time: <1
Crisis hits Enugu State House of Assembly as a group of 14 lawmakers, led by Speaker, Eugene Odoh, early this morning commenced the process of impeaching Governor Sullivan Chime over alleged gross misconduct.
They also accused the governor of forging the N12 billion 2012 Supplementary Budget.
The impeachment notice was signed by 14 members of the House, including the speaker and the Clerk of the House, Christopher Chukwurah.
The Clerk was directed to serve the notice on the governor immediately.
The Deputy Speaker, Chime Oji who was recently elected to represent Enugu North/South Federal Constituency; Hon. Emeka Ogbuabor and Deputy House Leader, John Kevin Ukwuta were suspended at the sitting for alleged anti-House activities
The speaker and the 13 members found their way into the legislative chamber at 6.28 am and held the sitting after the police had prevented them from gaining entry into the House.
Following complaints by the speaker, the police men were ordered to allow them into the House.
The lawmakers had complained that the governor was using some members of the House to disrupt the activities of the House for refusing to approve the N11 billion loan requested by the governor.
However, the mace was taken away after the sitting of the House.
THISDAY Newspaper reports that at 7.05am the Deputy Speaker and six other members of the House including the Deputy Govenor-elect, Hon. Cicilia Ezeilo walked into the chamber with another mace and conducted another sitting. One member later joined them.
After a short prayer, Hon. John Kevin Ukwuta, who was also suspended by the Odo-led group moved a motion that Hon. Johnbull Nwagu who was suspended by the House should be recalled and Hon. Chinedu Nwamba seconded the motion.
The Chime group of nine lawmakers, however, lifted the suspension slammed on Nwagu for misconduct and invited him to join the group bringing their number to nine.
Hon. Ukwuta thereafter moved another motion calling for the suspension of the Speaker Eugene Odoh and seven other members in his group including Anichukwu Nwankwo, Okechukwu Nwoke, Paul Ogbe, Nze Michael Onyeze, Chika Eneh, Theresa Egbo and SKE Udo-Okoye. The motion was approved by the nine members.
The principal officers among the suspended were also stripped of their positions and benefits.
Ukwuta further moved for the nomination of other colleagues to fill the vacancies created by the suspension and nominated Chinedu Nwamba, representing Nsukka East constituency to be sworn in as Speaker of the House.
The motion was approved and Chinedu Nwamba was sworn in as Speaker of the G-9.