Payment Of Subsidy Won't Stop Fuel Scarcity – NUPENG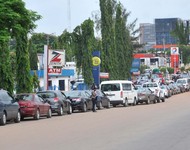 Despite the billions of naira paid by the federal government to oil marketers, the president of the Nigeria Union of Petroleum and Natural Gas Workers (NUPENG), Comrade Igwe Achese, has disclosed that scarcity of fuel would persist if the refineries are not put in proper shape.
This comes as the coordinating minister of the economy and minister of finance, Dr Ngozi Okonjo-Iweala, said yesterday that the federal government had released N156 billion for payment to oil marketers, leaving a balance of N98 billion certified by PPPRA as the amount owed them.
The N156 billion is the latest in a series of significant payments made to the oil marketers within the last five months. These include over N300 billion in two instalments in December last year and N31 billion in interest differentials recently. In all, oil marketers have received over N500 billion within the past five months.
The minister, while announcing the release of the fund, urged the marketers to appreciate the efforts being made by the federal government to meet up with their payments and reciprocate with some understanding of the situation of Nigerians who should not suffer more. She urged the marketers to sustain the distribution and supply of fuel to end the suffering of Nigerians at fuel stations.
However, Achese who stated that the payment would not end fuel scarcity, while speaking to journalists in Lagos during a pre-May Day symposium organised by the Nigeria Labour Congress led by Comrade Joe Ajero's group, said scarcity would continue as long as the country keeps importing fuel.
Meanwhile, the acute fuel scarcity plaguing most parts of the country has taken a serious toll on residents of Oyo State, such that motorists have resorted to the black market where a litre of fuel goes for as high as N300.
The development has left commuters stranded at various bus stops, waiting endlessly for commercial vehicles, most of whom are stuck in fuel queues for several hours. Depending on the distance, transport fares have risen between 50 and 100 per cent.
LEADERSHIP investigation showed that four litres of petrol, which should ordinarily cost N348 at N87 per litre, is sold in Oyo for N1,200 at the black market.
At petrol stations, fuel sells for between N100 and N150 per litre; some petrol attendants who spoke with our correspondent said it was "another opportunity to make money."
In Osun, motorists and commuters are similarly having a hectic time due to the acute scarcity of petrol as members of the Major Marketers Association of Nigeria (MOMAN) have stopped lifting petroleum products owing to debts allegedly owed them by government.
Our correspondent reports that over 95 per cent of filling stations in the state, including the federal government-owned NNPC stations, were closed to customers while the few with product were besieged by motorists despite the imposition of arbitrary pump price on them.
Commercial drivers have hiked their fares, as most of them have to purchase fuel from the black market at a minimum of N130 per litre.
In Abuja, only a handful of filling stations are open for business as motorists now depend largely on black marketers who sell a litre for between N200 and N250.