Breaking: Many Feared Dead In Lagos Gas Explosion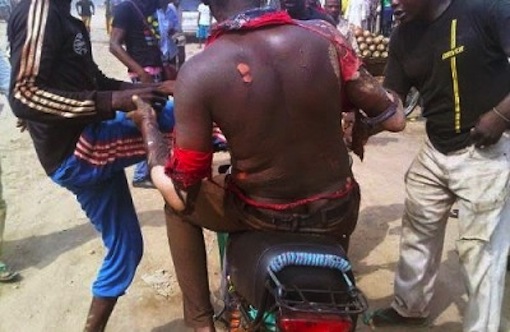 Estimated Reading Time: <1
A motorcycle rider trying to convey an injured victim to a near by hospital
An explosion at Allen Gas, a cooking gas supplier, depot in Isolo, Ago Palace Way, in Lagos, is said to have caused multiple deaths.
PM News Sources said the explosion occurred while gas-laden cylinders were being off-loaded from a truck at the depot.
Aside the purported death, some people were also said to have been seriously injured.
As at the time of filing this report, police could not ascertain the cause for the blast.
It would be recalled that a similar incident occurred in June 2014 at Folawiyo Apapa Fuel Plant. The blast killed at least four people leaving scores injured.
The Folawiyo Fuel Plant explosion was believed to be caused by tankers carrying petroleum products.
A fire fighter was also affected by the explosion while trying to put out the fire.
Reports on various social media platforms had said a lot of people died in the explosion but the National Emergency Management Agency told SUNDAY PUNCH that no lives were lost.
The Public Relations Officer of NEMA, Mr. Ibrahim Farinloye, told our correspondent that only three people were injured in the fire. He added that two gas tankers destroyed in the explosion.
The cause of the explosion was not known, according to Farinloye.
He said, "I can confirm to you that there was a gas explosion at Allen Gas in Isolo. However, there was nobody who died in the fire incident. Only three persons sustained injuries; two individuals and a fireman. The two persons sustained high degree of burns and they have been taken to the hospital. The third person, a fireman, only sustained a minor injury while trying to put the fire out."
When asked what caused the explosion, the NEMA spokesman said, "No one knows what the actual cause of the explosion is. There were two gas tankers at the place and the workers were offloading gas into the underground tank. Suddenly, there was an explosion. The resultant fire engulfed the two tankers and many gas cylinders around."
Photo Credit: PM News