Christopher Kolade, Oby Ezekwesili, Tunde Bakare & Audu Maikori Lead Dialogue As EiE Celebrates 5th Anniversary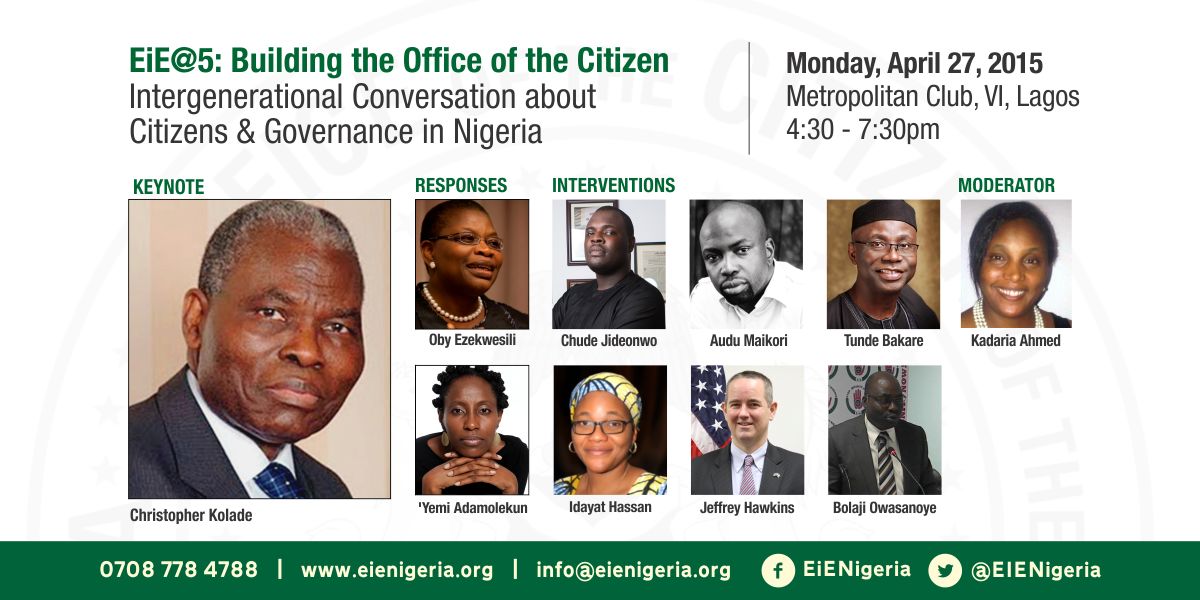 "Of all the institutions of a democratic society, there's none as formidable as an awakened and conscious citizenry."
– Shehu Sani
March 16th marked the 5th anniversary of the historic 2010 protest to the National Assembly led by young Nigerians – students, entrepreneurs, professionals & celebrities – to demand compliance with the rule of law.
At the time, President Yar'Adua was sick and had been out of the country for months and a group of people were bent on preventing then Vice-President Goodluck Jonathan from becoming Acting President. In addition, the killings in Jos were at an all-time high, there was fuel scarcity and young people had just had enough!
After the Abuja protest, a Lagos protest followed on April 10th and the organisers decided to start an organisation that would focus on empowering young Nigerians to participate in the governance process starting with elections. That was the birth of Enough is Enough Nigeria (EiE Nigeria).
On Monday, April 27th, EiE will mark its 5th anniversary with an Intergenerational Dialogue on Citizens & Governance in Nigeria. The theme – Building the Office of the Citizen – is taken from the teachings of Oby Ezekwesili that the 'Office of the Citizen' is the highest office in the land. The decision to focus on this is to reemphasize the power of citizens and EiE's commitment to placing Nigerians at the center of governance.
Joining Mrs Ezekwesili will be Dr Christopher Kolade giving the keynote address and interventions by 6 influential individuals sharing how citizens can engage governance from their sector – Chude Jideonwo (Media), Tunde Bakare (Faith-based institutions), Idayat Hassan (Civil society organisations), Jeffery Hawkins (Diplomatic community), Audu Maikori (Government), Bolaji Owasanoye (Academia).
Kadaria Ahmed, just off her stint as an Elections 2015 consultant for Channels Television will moderate the conversation. Pita will share his gift of music and one of Nigeria's leading comedians, Gbenga Adeyinka, will MC the evening.
The dialogue will take place at the Metropolitan Club in Victoria Island, Lagos from 4:30-7:30 pm and it is open to the public.