Senate Presidency, PDP Begins Move To Battle APC As David Mark Won't Stop Eyeing That Office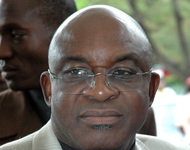 Estimated Reading Time: <1
There are indications that the Peoples Democratic Party (PDP) will present a candidate to vie for the exalted office of the Senate president, even though the All Progressives Congress (APC) has majority in the 8th assembly.
But while the senators, as well as members of the House of Representatives eagerly await the APC leadership to announce the party's zoning formula for principal offices, the PDP has started plotting on the best candidate to field that will get votes from majority of senators.
According to LEADERSHIP Newspaper reports, the APC got about 61 elected senators in the March 28 National Assembly election, while the PDP only had 49 senators elected in the election.
Senators Bukola Saraki from Kwara State, George Akume from Benue State and Adamu Abdullahi have indicated interest in the position amidst reports that the APC has zoned the position to the North Central.
The calculation of the PDP is that with several candidates emerging from the APC, the votes from the APC senators will be divided according to candidates they support, thereby reducing the number of votes for each candidate, while the PDP sole candidate will clinch the votes of all its members to retain the Senate president slot.
Some APC senators are already getting jittery over the development, saying the APC must put its house in order to avoid losing the opportunity it has to control the Senate.
Meanwhile, senators from the North East have insisted that for the sake of justice and fair play, the APC leadership should zone the Senate presidency to the zone which delivered the second highest number of votes to the party after the North West.
One of the senators who spoke to LEADERSHIP but didn't want his name mentioned argued that because the North East region had been devastated as a result of the insurgency and has been the most marginalised in terms of infrastructural development, zoning the Senate seat to the North East would be some sort of compensation to them.
Going further, he noted that the zone has never been given the opportunity to occupy the exalted seat since the second Republic, adding that the North Central has always been occupying the position.
"Since 1999, the two North Eastern states of Borno and Yobe have been steadfast in the opposition, apart from Lagos State. Zoning the seat to the zone would encourage the people for their steadfastness," he stated.