PDP Officials Corner Campaign Cars, Property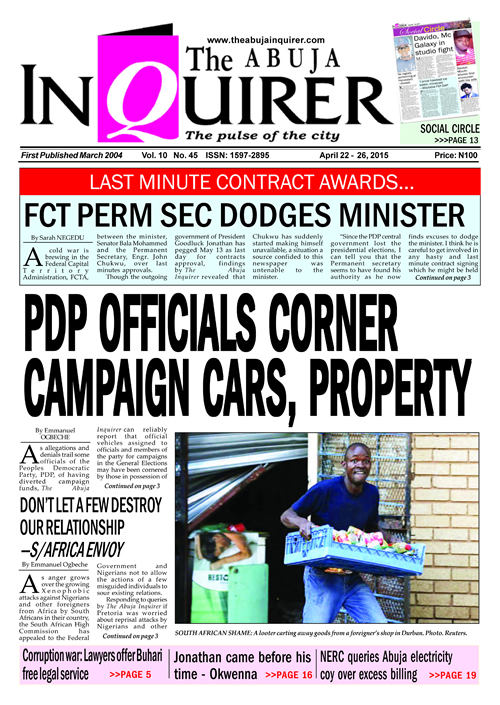 Estimated Reading Time: <1
As allegations and denials trail some officials of the Peoples Democratic Party, PDP, of having diverted campaign funds, The Abuja Inquirer reports that official vehicles assigned to officials and members of the party for campaigns in the General Elections may have been cornered by those in possession of the cars.
Our correspondent learnt that with the party in seeming disarray following the loss of the presidential elections and large scale defeat it suffered against the All Progressives Congress in state and National Assembly polls as well as the mass defections of members of the party, cars and party property have been appropriated for personal use.
Emmanule Ogbeche reports that a party official, who asked not to be named as he was not permitted to speak, disclosed that majority of the PDP Presidential Campaign Organisation have stayed away from the campaign headquarters, Legacy House, and or from the party headquarters, Wadata Plaza, since the dismal performance of the party.
He expressed the fear that most of the officials may have effected change of ownership of the Toyota jeeps as well as buses mainly from Innoson Vehicle Motors.
According to the party insider, it was expected that all the officials would have returned the party vehicles to the campaign office of party headquarters after the election but the reverse has been the case.
Also, most that were in charge of trail loads of rice and clothing mainly T-shirts and wrappers this newspaper gathered have undertaken to distribute them as they deem fit.
Our correspondent was informed that a top official of the party from the North Central and North East had repackaged some trail loads of rice meant as campaign inducement for electorate into unbranded bags so as to inject them into the market for sale to the public.
It is estimated that over 1000, jeeps and an double number of buses may not be accounted for.
Effort to speak with the Director, Media and Publicity of the PDPPCO, Mr. Femi Fani-Kayode was unsuccessful as calls to his phone and text messages were not responded to.