Bad News For Shopaholics? CBN Cuts Down Overseas Spending Limits To Reduce Pressure On The Naira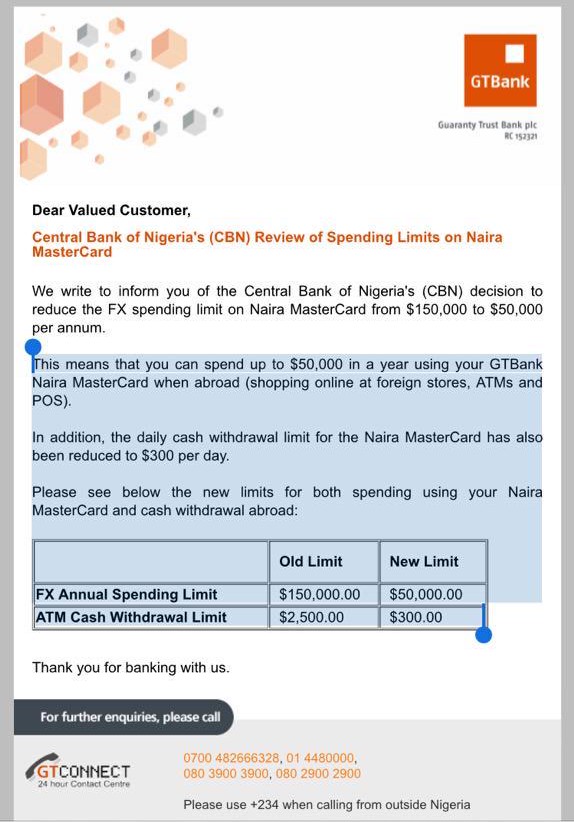 Estimated Reading Time: <1
The Central Bank of Nigeria (CBN) has cut the annual overseas spending by Nigerians, using any Nigerian banks debit card from $150,000 to $50,000. It has also brought down the daily usage card limit to $300 from $2,500. According to the CBN, the move is being taken to reduce the pressure on the Naira. 

In a circular signed and issued yesterday April 14th by the director, Trade and Exchange Department, Olakanmi Gbadamosi, the CBN said the new limit takes effect from Monday, April 13, 2015.
"All authorized dealers and the general public are hereby informed that with effect from the date of this circular (13th April, 2015) the existing limit on the usage of naira denominated cards for transactions overseas has been reviewed downward. Accordingly, the limit has been reduced $150,000 to $50,000 per person per annum.
"In addition, all authorized dealers are to ensure that the daily cash withdrawal limit embedded in the card per person per day is pegged at $300. Authorised dealers are to ensure strict compliance whit this new limit and render monthly returns of the transactions to the director, Trade and Exchange Department, CBN not later than 5th day of the following month."
However, the circular did not state if there would be restrictions for individuals with multiple naira denominated cards from different banks.