Afraid Of Buhari? Fire Guts Federal Mortgage Bank On Broad Street [Official Documents Touched]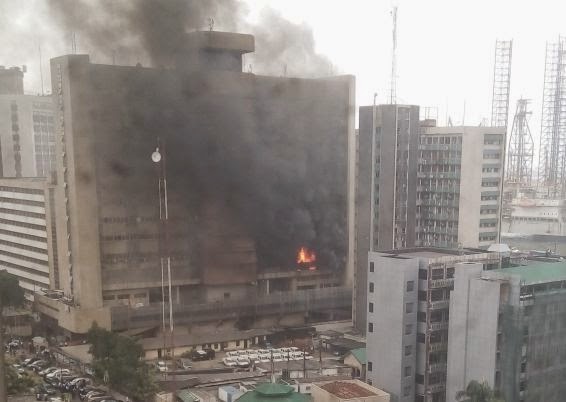 Estimated Reading Time: <1
by Chukwu Obi
Fire has gutted Federal Mortgage Bank building at Mamman Kontagora house, located in Broad street, Lagos.
According to available information, the raging inferno has already gutted 7 floors of the building. Fire Service men have just arrived to fight the inferno.
Eyewitness in Broad street suspect foul play, a source who doesn't want his name in print who spoke to us said "It is strange that the fire affects the Mortgage building".
He doubts that it was a coincidence that the fire burnt almost all the official documents in the bank.
The Federal Mortgage Bank of Nigeria (FMBN) was established in 1956, known then as the Nigerian Building Society (NBS), a joint venture of the Commonwealth Development Corporation and the Federal and Eastern Governments of Nigeria.
Following the introduction of the Indigenisation Policy, the Federal Government, by Indigenisation Act 1973, undertook 100 percent ownership acquisition of the NBS and consequently renamed it the Federal Mortgage Bank of Nigeria (FMBN).
With the election of Muhammadu Buhari, most Ministries and Federal agencies being governed by the ruling Peoples Democratic Party, PDP, for 16 years are now writing down their hand over notes..
FMBN is also expected to submit a handover of all their activities to the incoming government of Buhari, it is hoped that the fire outbreak is not an attempt for a cover up.
Buhari, a former dictator is feared by many corrupt officials, as he's known for sending thieves to Jail, he has a corruption free track record.
A Security personal at the building when questioned if classified documents are destroyed, he said. "Press men for now i cannot say anything, you can see fire service trying to put the fire out and of course documents should be affected with the magnitude of the fire".
It is however not clear what led to the fire, but our correspondent is still at the Premises scooping for more news..