Stephen Keshi Wants Amokachi Sacked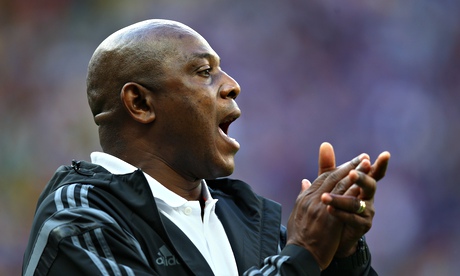 by Zenith Oduah
A staggering revelation has been made on the latest request from the about to be re-appointed national team boss, Stephen Keshi as whispers from the Nigeria Football Federation (NFF) Glass House suggests that he wants Daniel Amo­kachi sacked as assistant manager of the Super Eagles.com can exclusively report.
The former Everton forward was in charge of the Eagles in Keshi's absence when the team prosecuted two friendly games – first, a disgracefully defeat against Uganda in front of home fans at the Akwa Ibom Interna­tional stadium which was fol­lowed by a lackluster 1-1 draw in South Africa against the Bafana Bafana.
Amokachi told an unnamed NFF official after the Cranes friendly that it was the big boss that selected the team and he was just a figurehead – that news got to the ears of Stephen Keshi and got him furious.
Now, he wants Amokachi out and the former Mali coach is pushing the NFF chiefs to re-engage the services of his for­mer assistant, Togolese Valerie Hounandinuou who was fired by the NFF in April 2013.
Keshi who recently agreed a new deal with the Nigerian football body to continue as manager will sign the contract papers next week, it was reli­ably gathered.