APC Lagos Assembly Candidate, Desmond Elliot Pictured Sharing Money To Woo Voters & Police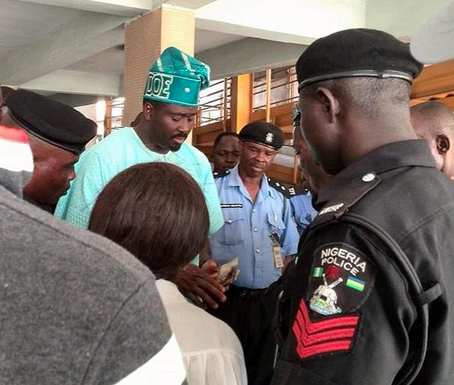 Estimated Reading Time: <1
by Zenith Oduah
Lagos state House of Assembly hopeful and All Progressives Congress chieftain, Desmond Olusola Elliot, was allegedly caught sharing money to woo voters in Lagos state, according to an image by a citizen reporter.
Twitter users were totally not impressed after this photo of Nollywood actor cum politician Desmond Elliot hit the web. It shows him surrounded by Nigerian policemen all looking at the cash in his hands.
Nnamdi Anekwe took to his page to ask for some explanation and it turns out the photo was allegedly from yesterday and shows Desmond handing out lunch money to the security officers that escorted him.
In the said image, the Nollywood star who wore a native attire with his initial DOE boldly written on his cap, was surrounded by policemen and others.
However, he has denied the allegation, arguing that he did not need to bribe anyone. He didn't give further information on why he shared the money.
"Please remain focused and prayerful, I didn't bribe my way to where God has placed me, is it now that I will start.. and what am I bribing them for again?" he said in a tweet.