Fulani Herdsmen Kill Seven In Kwara Village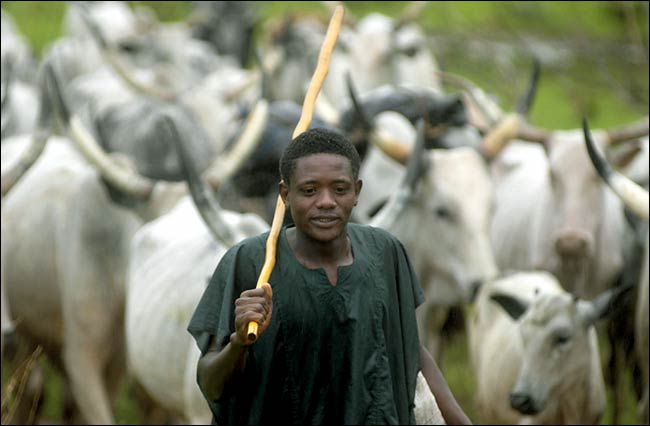 Estimated Reading Time: <1
By Chris Nomjov
Fulani herdsmen have reportedly killed seven people in Eruku community in Kwara State. This has prompted the people to call the Police to assist them against frequent attacks by herdsmen.
This latest attack comes close to two years after the last clash between Fulani herdsmen and the people of Kwara. In October 2014, the herdsmen reportedly clashed with irate youths in Kwara, leaving close to ten persons dead.
Making his case, the traditional ruler of the Ekuru community, Oba Busari Olarewaju and other stakeholders of the community during a town hall meeting lamented that over seven members of the community, including a local hunter have lost their lives to attacks by suspected herdsmen.
The community however resolved not to take the laws into their hands. It urged youths to remain calm in the face of provocation.
Oba Olanrewaju lamented that the community had been experiencing attacks for the past ten years.
He said, "By my record, they have killed over seven people. This has been a serious problem to us. I have personally written series of letters to the authorities concerned, even to the state House of Assembly.
"We held meetings with Seriki Bororo on this issue more than ten times, including the DPO and traditional council of Ekiti Local Government Area at Osi on the need to live in harmony with one
another, but to no avail. We want government and the law enforcement agency to come to our aid.
"The community has hunters who are battle ready but we don't want to take laws into our hand. And if possible, these herdsmen should be settled in cattle ranches.
"We don't want them to continue to kill us and destroy our property. Government should do something about it urgently in the interest of peace and harmonious living", he said.
Also speaking at the town hall meeting, the President of Eruku Descendant Union (EDU), Chief Emmanuel Oni, said "The government is aware of our plight, likewise the police. The authority concerned has taken necessary steps to arrest the situation. You can see armed mobile policemen, they are here to protect our lives and property", he said.
In response to the community, the state Police Public Relations Officer, ASP Ajayi Okasanmi said the command was aware of the matter, adding that they have investigation into the incident.
He assured the villagers of full protection, even as he advised them not to take the laws into their hands.