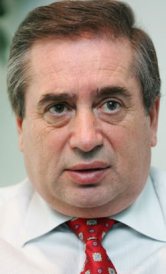 by Musa Abdullahi & Agency Reports
Romania's richest main, Ioan Niculae, the billionaire head of an agro-industrial conglomerate, was sentenced Thursday to two and a half years in prison for his involvement in illegal financing of the 2009 presidential campaign.
The Bucharest appeal court also condemned a former official of the ruling Social Democrats as well as two businessmen, the Mediafax agency reported.
Gheorghe Bunea Stancu, former head of a Social Democrat affiliate in Braila, eastern Romania, was found to have used his influence to obtain a million euros ($1.09 million) from Niculae for illegal financing of an electoral campaign.
Niculae, owner of agrotech company Interagro asked in return for people to be appointed in the economy ministry who would support his business goals, in the event of an election win by Social Democrat candidate Mircea Geoana.
Geoana lost that presidential campaign to conservative Traian Basescu.
60-year-old Niculae, a keen hunter, is also at the centre of a scandal over low price public gas deliveries to private companies.