Soldiers Allegedly Invade Governor Oshiomhole's Home In Broad Daylight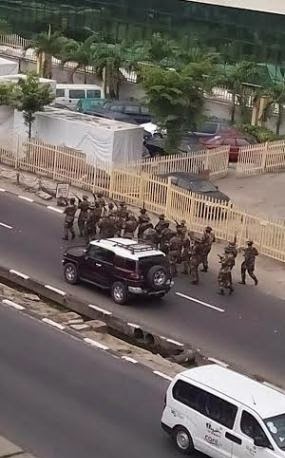 Estimated Reading Time: <1
by Deji Abiodun
Some soldiers on Thursday afternoon besieged the country-home of Edo state Governor Adams Oshiomhole in Iyamoh, Auchi in Etsako West local government area.
Speaking on the matter via a press statement, the Edo state Commissioner for Information and Orientation, Mr. Louis Odion, stated that the aim of the invasion was to intimidate the governor and manipulate the elections in favour of PDP.
Odion said: "Family members of the Comrade Governor were shocked to find his country-home taken over by soldiers this afternoon.
"When asked, the invading force said they were acting on orders from above. We also have it on good authority that the Army high command in Abuja had sent some soldiers to Edo State on what they described as, 'special operations'.
"In order not to arouse suspicion, these soldiers were told to dress in suits and pose as SSS operatives and station themselves at polling units on election day, particularly in areas seen as APC strongholds.
"They were told to harass and possibly detain polling agents of APC in order to clear the ground for rigging by agents of PDP, who would be wearing special hand bands. It is a rehash of the rigging manual implemented in Ekiti, last year."
The commissioner also stated that Governor Oshiomhole's campaign jingle on Channels Television, in which Oshiomhole endorsed General Buhari, was stopped abruptly two days ago on orders from above.
He added: "For the avoidance of doubt, we wish to use this medium to tell the Army high command that Comrade Oshiomhole cannot be intimidated even with whole might of the Nigerian Army from insisting on the application of the principle of 'one man, one vote' on the election day.
"We hope that as patriots, officers and men of the Nigerian Army will not allow themselves to be used by political desperadoes to truncate this democracy."