#NigeriaDecides: Jega Tasks Corp Members On Election Duty To Uphold Integrity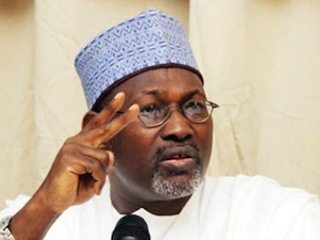 Estimated Reading Time: <1
By Chris Nomjov
The Chairman of the Independent National.Electoral Commission (INEC), Prof. Attahiru Jega has called on Corps members, who form the bulk of ad hoc staff the  Commission is deploying for the general elections to resist "any temptation" to manipulate the elections.
The INEC Boss gave the charge, alongside the Director-General, National Youth Service Corps, Johnson Olawunmi, a Brigadier General, Friday during a joint press conference in Abuja?.
"Resist any temptation that may hinder Nigeria's democracy and economic development," Messrs. Jega and Olawumi said jointly.
"It is expected that you will handle this critical responsibility with high sense of patriotism.
"Resist temptation that will destroy your name, the name of your school, the name of your family and the NYSC," they said.
The assured the corps members, as well as students of tertiary institutions who are also part of the INEC ad hoc staff,? of adequte welfare and security.
Mr. Olawumi added that mechanism had been put in place to ensure the NYSC responds to emergency situations involving the corps members anywhere in the country.
He said non-payment of allowances was a thing of the past, adding that their monthly stipends had been paid since Thursday to "ensure corps members have money in their pockets and not be at the mercy of anybody during the elections".
Mr. Jega said INEC would support any mechanism "within the laws" by the security agencies to protect the elections.
He added that the results of the elections are would be announced ?within 48 hours.
Mr. Jega dismissed the allegation that INEC awarded contract for supply and production of the card readers and permanent voter cards to a blacklisted company.
He said the allegations are "last minute" efforts to undermine the electoral process.
Speaking further, he said, "We believe it will enhance the transparency of the elections if people wait to see how the votes will be counted.
"The voters should decide what they want whether they want to stay or go or adhere to the security advise by the Inspector General of Police?," he said.