#NigeriaDecides: Buhari Arrives Daura To Exercise Franchise As He Pledges To Abide By Peace Accord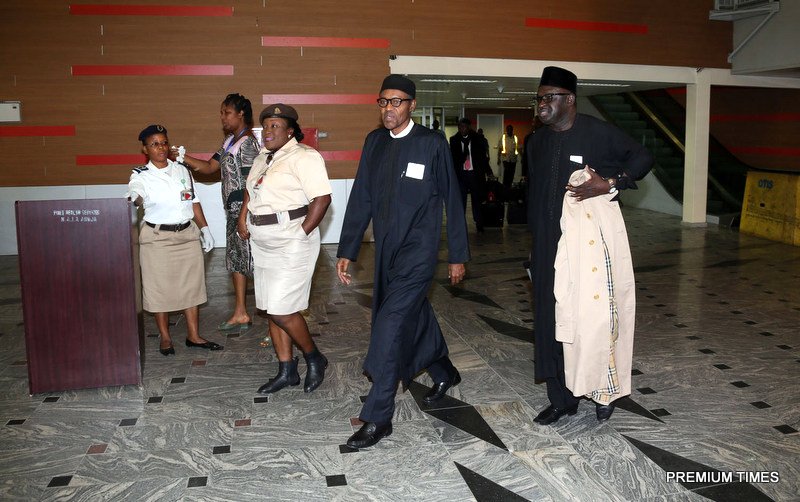 Estimated Reading Time: <1
My Chris Nomjov
The Presidential Candidate of the All Progressives Congress, Muhammadu Buhari, has frowned at fresh reports of violence, less than 24 hours after signing another peace accord in Abuja.
He reiterated that he takes the accord seriously. The latest peace pact, is the second 'no violence accord' Mr. Buhari and President Goodluck Jonathan, the Presidential Candidate of the Peoples Democratic Party have signed to reinforce their commitment to a peaceful elections.
However, Nigeria has witnessed pockets of pre-election violence carried out by supporters of the two major political parties – APC and PDP.
While assuring of his commitment to upholding peace during the elections, Mr. Buhari lamented that his party has been targeted for numerous attacks and called for the upholding of the peace accord.
He decried recent events of violence, which he claims have been targeted at APC supporters
"Recent developments across the country, ahead of Saturday's elections, run against the contents and spirit of the peace accords.
"For example, the ink with which we signed the new peace accord had barely dried when we started hearing reports of violence directed against members of our party, the All Progressives Congress (APC), as well as glaring acts of harassment and intimidation being carried out against the opposition by security agents across the country.
"Shots were fired at the convoy of the Director General of my Campaign Organization, His Excellency Gov. Rotimi Amaechi of Rivers State, in Rumuolumeni, Obio Akpor area of Port Harcourt, a few hours after the second peace accord was signed, leaving two persons injured.
"In Ondo State, a serving APC member of the House of Representatives, Hon. Eniolorunda Omosule, was arrested and detained by the police for no reason other than to keep him away until after elections, while we have heard reports of an alleged meeting in Ibadan between the Commissioners of Police in the South-west and PDP officials.
"In Imo, we have read of how more than 30 armed mobile policemen were unleashed on some APC youths at Mbutu in Aboh Mbaise Local Government Area, with the policemen firing indiscriminately, smashing doors and windows and arresting some of the youths, while there are alleged plans to deploy troops clothed in DSS uniforms to the South-west to help the PDP to rig the elections.
"These are worrisome developments, more so because they involve security agencies, which are supposed to be neutral and professional in carrying out their constitutional duties of protecting the lives and property of Nigerians, irrespective of their party affiliations.
"I remain committed to the two peace accords which we signed to ensure free, fair, transparent and peaceful elections on Saturday and on April 11th, and once again I urge all my supporters to shun all acts of violence, even in the face of the worst kind of provocations.
"However, the wordings of the accords must mean something if indeed they are the paper they are written on. The new peace accord we signed on Thursday called on INEC and all security agencies "to ensure strict adherence to their constitutional roles". This is the minimum requirement for us to have credible elections. When those who are being paid to protect Nigerians turn around to unleash violence on them, it portends great danger for the polity.
Meanwhile, the presidential candidate of the APC, arrived Katsina, en route Daura, his home town, on Friday evening, where he is expected to cast his vote on Saturday. Mr. Buhari arrived Katsina Airport at about 4:40p.m. aboard a private Jet, Hawker 4000, with registration number ZS-Z0T.
A number of supporters who were waiting for the former military Head of State rushed to the Aircraft as soon as it arrived the parking area, most with their smart phones on video mode, waiting for him to alight.
Mr. Buhari acknowledged their cheers and shook hands with some of them. He started by greeting the APC's governorship candidate in the state, Aminu Masari, a former Speaker of the House of Representatives.