#NigeriaDecides: Few Hours To The Polls, PDP And APC Supporters Clash In Southern Borno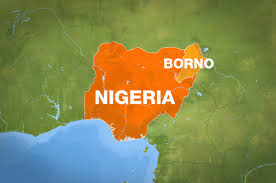 By Chris Nomjov
Barely few hours to the commencement of the general elections across the country and there has been a reported clash between supporters of the Peoples Democratic Party, PDP, and the All Progressives Congress, APC, in Marama, a major town in Hawul local government area in the Southern part of Borno State.
An anonymous witness, who was sketchy with details as to what led to the clash, said "Marama is on fire as APC and PDP supporters are at war, fighting and burning each other's' flags, posters and party buildings.
The source added that vehicles and houses including that of the council chairman were burnt down during the clash.
However, it was also revealed that it took the deployment of soldiers from Biu town 24km away to intervene and quell the situation.
The source said a top government official, whose name cannot be disclosed as  cannot independently verify his claims, has been beaten unconsciousness and rushed to Federal Medical Centre, Gombe 130km away, for treatment.
Marama is 209km south of Maiduguri, Borno state capital.
Meanwhile, things have been calm in Maiduguri as politicians continue to prepare for elections expected to hold mostly in IDP camps.