Tahir Sherriff: Do Casualty Figures From Boko Haram Attacks Need More Verification?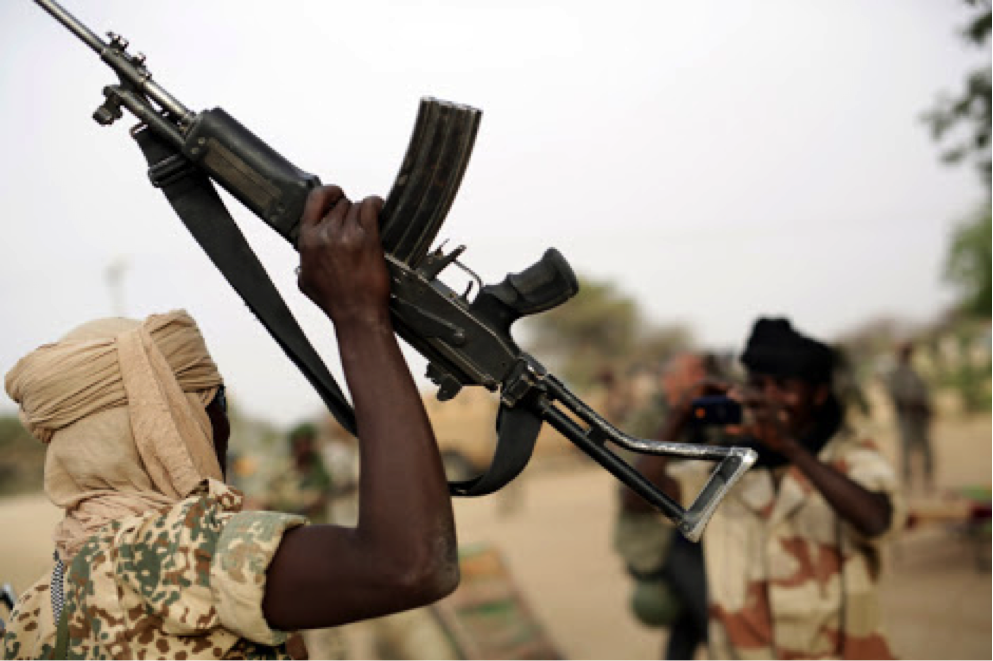 Estimated Reading Time: <1
Chadian Soldiers Celebrating Victory From Damasak on Wednesday..(Photo Credit: AP)
Make no mistake; the numbers that are churned out every day about the Boko haram massacre is as frightening as it is heart-breaking. But what is worse, what is confusing and mostly un-imaginable to a sound mind, is perhaps the twist the story often takes.
Just in the last few days BBC reporter Tomi Oladipo walked without fear, through towns that had been recaptured by the Nigerian army in its joint offensive with Niger, Chad, Cameroun and South-Africa against the group, but out of nowhere, the news now is that close to 500 people have been kidnapped once again by Boko haram.
Of course not all reports that cannot be immediately verified can be regarded as lies. We cannot blame journalists for sometimes over-exaggerating what they report to us as news, we cannot blame the social media for the series of sentimental reportage often thrown on the ever information hungry masses even if only to generate content traffic, and most importantly we certainly must not disregard the opinions of locals who help us relate the events as they see it and the power of real-time information. Even US President Barrack Obama once described us as being in an age where you carry information about the world in your pocket, a mere click away.
But how often do we ask about the originality of the information we get. What institutions exist, that can accurately verify what we accept as truth in today's Nigeria? We live in a time where no single institution can even confirm how many Nigerians there are in one state, a time when phrases like 'ghost workers' 'unknown gunmen' and 'Fulani herdsmen' has become a recurring theme in multiple narratives.
A time that is so abnormally normal to accept anything, to a point at which when information goes viral that 2,000 people were killed in Baga, you have no way to verify or discredit it. When a group like Boko Haram is said to have killed over 18,000 people, you have no way to accept or deny it. When there are incompatible figures in reports pertaining the number of IDPs in the northern region, and especially when a group that is reported as being under intense and consistent fire to such a degree that it calls on a bigger, more equipped, and more frightening group for an alliance suddenly show up in Damasak and kidnap a number of people that could make up a small village, you simply click-read-accept, and shake your head.
The report that 506 girls and women had been kidnapped as written by Reuters Joe Penney isn't something that can be taken as false, but it also isn't one that can be taken as complete either. For example, all the information did not go beyond the verification of a single trader reported to have been in Damasak. This reports, come from an international multi-media news agency which '..requires fair presentation and disclosure of relevant interests…'
In May 2013, Baga town took the 'Je Suis' title when information went viral that over 2,000 civilians had been massacred and buried in mass graves after two weeks of fighting between the military and Boko Haram. But the first report that came from Al-Jazeera reporter Yvonne Ndege, who interviewed victims and went around the town, was unable to give credit to that huge figure which was at the time, only supported by Human Rights Watch report of satellite images showing that close to two houses were burnt in the period following the fighting.
Not more than 20 graves. That was the army's response.
Are local institutions tasked with the responsibility of verifying information about the real state of affairs in the north-east? The answer of course is NO. Do people have access there, and can there be adequate security for those willing to go? The answer once again, is of course NO.
One thing is certain about the nature of the reports that have come out of north-east Nigeria; less emphasis is placed on the facts about the information presented, than on the shocking nature of the presentation. Only last week, the Boko Haram group was also reported to have killed several women while retreating from Baga. A situation which experts described could have been caused by the group's realization that their empire would not last forever following intense military victories and re-capture of territories.
So if they show up in Damasak which was liberated by Chadian soldiers barely a week ago, with enough infrastructures to kidnap close to 500 people, of course it's safe to ask the real questions. What is the missing link here?
________________________________
Article written by Tahir Sherriff, in-house freelance reporter with NewsWireNGR in Abuja
Disclaimer
It is the policy of NewsWireNGR not to endorse or oppose any opinion expressed by a User or Content provided by a User, Contributor, or other independent party.
Opinion pieces and contributions are the opinions of the writers only and do not represent the opinions of NewsWireNGR