Breaking: 21 Commissioners, 16 Assembly Members Join Deputy Governor In Defecting To PDP In Rivers state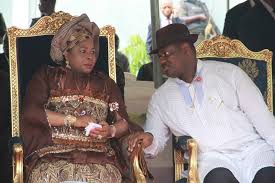 Estimated Reading Time: <1
by Deji Abiodun
We are getting more information from Rivers State, after the defection by Deputy Governor of Rivers State Engr. Tele Ikuru.
The deputy to Governor Rotimi Amaechi of Rivers State, Mr Tele Ikuru, Sunday, dumped his All Progressives Congress, APC, for the Peoples Democratic Party, PDP, describing the APC "As a party of rebels, insurgents and anarchists, clothed in robes of pretence and deceit."
Sources in the state said the deputy governor did not leave the All Progressives Congress, APC, alone but did so with about 21 Commissioners and 16 out of 25 State House of Assembly members who initially defected with Gov. Rotimi Chibuike Amaechi to the APC.
We are yet to verify some of the claims but an aide to Mr Nyesom Wike, the Peoples Democratic Party candidate who spoke to NewsWireNGR on condition of anonymity claims "the APC in Rivers state is dead and buried with the defection of commissioners and assembly members".
Engr. Ikuru who describes the State APC as people of rebels has denounced his membership to PDP."Ever since, as the true nature and motives of APC are unveiled, I have continued to twist and turn in extreme mental and emotional agony. The more I struggle to belong, the more the Rivers man in me rejects the APC.
"After carefully studying, interacting and analyzing the leadership of the party, I have come to the sad conclusion that the APC is a party of rebels, insurgents and anarchists, clothed in robes of pretence and deceit. APC is a party founded on deception and it thrives on unholy propaganda and falsehood.
The leader of PDP and PDP Gubernatorial candidate in the state, Chief Hon. Barr. Nyesom Ezebunwo Wike has already set up a committee to officially welcome them into the party by tomorrow Monday 23rd March, 2015.
If you missed the speech earlier issued by the deputy governor when he defected earlier today, read here I wish to urge all My Supporters, the Good People of Rivers State to join hands with other well-meaning Nigerians to massively vote for President GOODLUCK EBELE JONATHAN.