Jonathan Very Vocal About Victory; Declares "I Will Surely Win" In Interview With BBC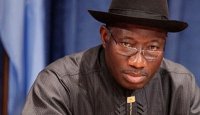 Estimated Reading Time: <1
By Chris Nomjov
In very clear and unequivocal terms, President Goodluck Jonathan says he will "surely" win the 2015 presidential election which will hold on March 28. Speaking in an interview with the BBC, Jonathan said categorically: "I'll surely win."
The election is generally expected to be very tight, a close call at best, with some analysts, foreseeing a victory for a retired general, Muhammadu Buhari, presidential candidate of the main opposition party, the All Progressives Congress (APC), would win.
On the postponement of the election from the original February 14 date, which was seen in many quarters as a political stunt due to jittery from President Jonathan's camp; the president told the BBC he is confident of winning the election.
He also spoke on the Boko Haram insurgents, admitting for the first time that they were initially underrated by the government. But now he said they are getting weaker and all territories under their control would be retaken within a month. "They are getting weaker and weaker by the day," he said.
"I'm very hopeful that it will not take us more than a month to recover the old territories that hitherto have been in their [Boko Haram's] hands." While admitting that the authorities had "under-estimated" the militants, he also reiterated that the military lacked the resources to fight them until now.
President Jonathan said that newly acquired military equipment, as well as co-operation with neighbouring countries, had helped push the insurgents out. On the Chibok girls, he said he was hopeful they are still alive and some of them may be at the Sambisa forest.
This contradicts the Military intelligence that was received during the week, when Chief of Army Staff, Lt Gen. Kenneth Minimah, stated that there were no traces of the girls yet in all the towns and villages retaken from Boko Haram.