Fraud Alert!! How APC Governor, Rochas Okorocha Handed University Students Toy Laptops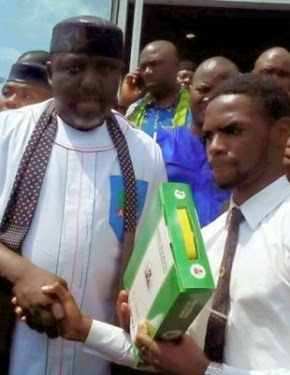 Estimated Reading Time: <1
by Deji Abiodun
You'd think that as a Political party that prides itself as 'change' they (the All Progressives Congress) will at least do things differently, from Osun State to Imo State it is a case of deceit just like their opponent, the Peoples Democratic Party, PDP.
For those who must be wondering why the link to Osun… Well, the State Government of Osun, under the leadership of Governor Rauf Aregbesola, introduced Opón Ìmò Initiative, a "Tablet of Knowledge" to enhanced Learning System but turned out to be a scam which led to the failed project widely publicised.
The Imo state University students (IMSU) are accusing Governor, Rochas Okorocha for distributed fake laptops, actually they are all calling it toys, to them while politicking for the forthcoming general elections.
Pictures of the laptop and the governor handing them out as seen on twitter above. If you must be the "change" at least be different and truthful.
Nigerian governors will sure do anything for votes, to think that the students all jubilated only to find out it was a facade….