Scary IMAGES!! This Is How Indian Students Cheat During Exams, Nigerians Are Still Learning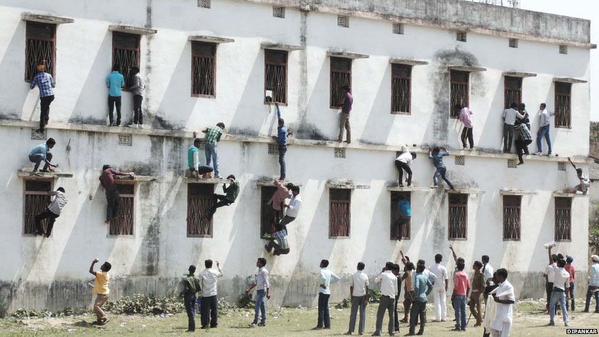 Estimated Reading Time: <1
by Deji Abiodun & Agency Reporter
Authorities in eastern India were left red-faced on Thursday after images of relatives scaling the walls of a school exam centre to pass notes to candidates were broadcast on local television.
Dozens of people were shown clinging to the windows of one four-storey building in the eastern state of Bihar, where more than 1.4 million teenagers are sitting their school leaving exams.
Other images showed police officers and school staff standing by as people passed study aides to candidates inside examination centres.
The images went viral on Twitter and made national headlines, but Bihar's education minister P K Shahi refused to accept any blame for the cheating.
"You tell us what can the government do to stop cheating if parents and relatives are not ready to cooperate?" he told reporters.
"Should the government give orders to shoot them?"
It is not the first time that exam cheating has been exposed in Bihar — more than 1,600 students were disqualified in 2013 after similar videos emerged.
Police also detained more than 100 adults for helping students cheat.