Lagos Governor Won't Stop Nagging, Says '2,123 Policemen Protected Jonathan While Robbers Raided Bank'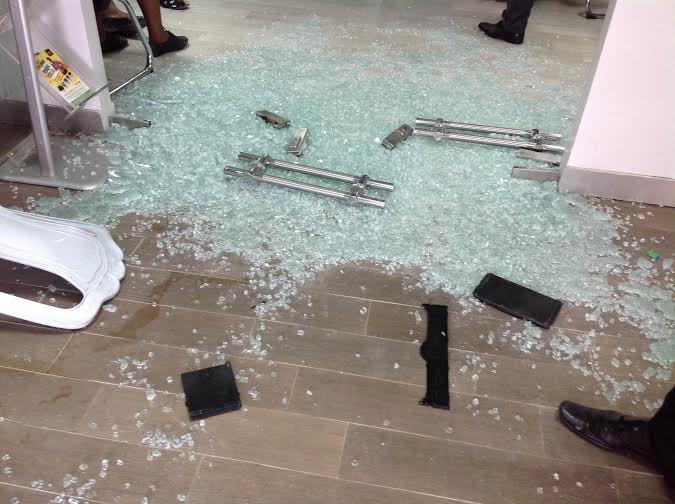 by Deji Abiodun
The Lagos State Governor, Babatunde Fashola, on Tuesday said 2, 123 policemen that would have helped to repel the Thursday bank robbery in the state were sent to protect President Goodluck Jonathan when he visited Lagos.
Even after Mr Reuben Abati's statement clarifying that the security attached to the President is a standard Procedure and had nothing to do with officers saddled to prevent the Lekki Robbery attack.
But the Lagos governor with billions of security votes in his coffers won't stop nagging as someone should be blamed and no one else but Nigeria's President Goodluck Jonathan.
Fashola, who said this at the 2015 Agric Value Chains Empowerment programme, lamented that the President's visit to the state paralysed the state security apparatus so much that it could not foil the robbery.
The governor who failed to give the actual number of police officers attached to him while armed robbers killed and stole in his state, said nearly all the vehicles bought by the state government for the police to be able to respond rapidly to crimes were on the alert for the President.
Fashola said, "The President came to Lagos last Thursday, and while citizens were being robbed, the President was protected by 2,123 security personnel.
"Let me be very clear, the President is entitled to every protection; he is our President, but the question to ask is; when you were being traumatised, where were these 2,123 men, because you are also entitled to be protected? The reason why the President gets all that protection is so that he can protect all of us."
Fashola said he was also worried by the reports of violence and harassment of innocent citizens on Monday during a protest by members of the Oodua People's Congress and loyalists of the Peoples Democratic Party.
"Yesterday (Monday), they also showed the difference between us when the supporters of the PDP and President Jonathan came out. On March 7, just about a week ago, the APC held a solidarity walk in Lagos. Did anybody attack you on that day?
"So, yesterday, they held their own, and instead of canvassing for your votes, they were showing you knives and cutlasses."
About 3,529 beneficiaries of the empowerment programme, were given farm inputs, including fish feeds, eggs, cattles, and fertilisers, among others.
Commissioner for Agriculture and Cooperatives, Gbolahan Lawal, said the programme had resulted in significant reduction in poverty.
"For some beneficiaries, it was a lift of a lifetime.
"During the exercise in 2014, 3,149 households benefited.
"Those who were not fortunate today will have to register for the next exercise," Lawal said.