Disheartening! Military Still Has No Clue As To Whereabouts Of Chibok Girls; 338 Days After School Girls Were Abducted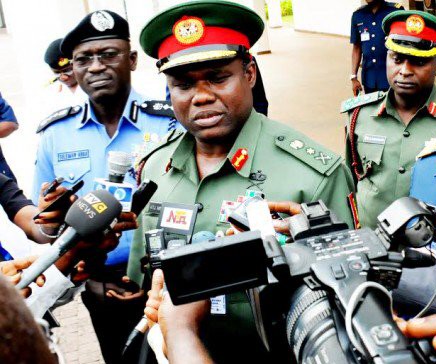 Estimated Reading Time: <1
By Chris Nomjov
The Chief of Army Staff, Lieutenant General Kenneth Minimah, on Tuesday, dashed a few hopes, with the report, that the Military had so far, not seen any trace of the over 200 Chibok girls. Speaking to journalists after the Security Council meeting with the President, yesterday, Lt. Gen. Minimah said there has been no sign of the missing schools, who were abducted from their school on the night of April 14, last year. 
This is despite the commendable successes recorded so far by the military in its recent intensive operations in the North East. Infact, as it stands only three local governments in Borno state are yet to be liberated from Boko Haram by the troops. Such has been the good work of the troops in the renewed onslaught against the insurgents. However, this has not yielded the desired results in the whereabouts of the missing school girls.
Minimah said the "mop-up operations" in the liberated gave no clues as to whether the abducted girls were kept there before they were moved by the militants. Abubakar Shekau, the Boko Haram leader, said last year that he had sold the girls and married them off. Minimah said:
"No news (on the girls) for now. In all the liberated areas we have, we have also made enquiries but the truth is when the terrorists are running away they also run with their families. "And those we have come in contact have not made any comments suggesting that Chibok girls were there and taken away. "But we are optimistic that as the war gets closer, the territory is becoming elusive to them (terrorists) and we will get further details on that."
He also said it is only the Independent Electoral Commission (INEC)? that will decide if elections will hold or not in the liberated areas. He said though the territories had been re-taken, structures of government still needed to be reinstated,  but said INEC would have the final say. Briefing the media on the security meeting, he said:
"Council reviewed the north-east operations particularly in the last three weeks and Council renewed its confidence in the Nigerian armed forces and commended them too. "You know Yobe and Adamawa states have been liberated completely and we look forward to the reinstatement of structures of government and governance.
"I am also sure you know that in Borno state out of the 27 local government we have three local governments remaining, Abadam, Kalabaldi and Gwoza and we optimistic that with time we will liberate those local governments. "I am not competent to speak on the elections. INEC is still there. INEC has to re-access the situation and evaluate because the areas have been liberated.
"But I can also tell you that not all structures of governance have been reinstated and they will need to be reinstated so that citizens can go back to their areas and it is then I think they can execute their rights as voters. How soon? I don't know." Asked if the operations could be concluded before the elections, he replied: "It is our wish and we pray God gives that to us, but war is war. War sometimes is not fought on some platforms of permutations."