President Jonathan Visits Mubi; Head To Baga And Other Recovered Territories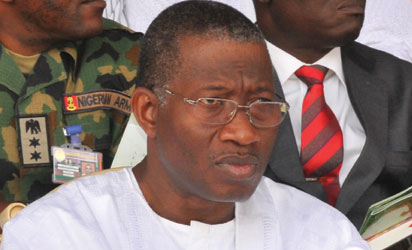 by Chris Nomjov
President Goodluck Jonathan has visited Mubi in Adamawa State, more than three months after Nigerian troops recaptured the town from the insurgent group, Boko Haram.
The president arrived Yola international airport at about 10.45a.m. Thursday, accompanied by the Chief of Defence staff and all the service chiefs and the inspector general of police. He later travelled by helicopter to Mubi.
At Mubi, Mr. Jonathan met with the Emir of Mubi, Isa Ahamadu, and the people of the area.
There were unconfirmed reports that the president visited Vintim village in Mubi, the home town of Nigeria's Defence Chief, Alex Badeh.
But security sources said that from Mubi, Mr. Jonathan was to travel to Baga in neighbouring Borno State.
Baga was reclaimed by government troops last week after Boko Haram militants overran the town killing hundreds and displacing thousands.
Mr. Jonathan and his administration have been widely criticised for their handling of the Boko Haram crisis, and the failure of the government to stem attacks against civilians.
Ahead of elections, the government has apparently stepped up effort against the terror group with multiple towns liberated by soldiers.
The government has also announced new measures to raise the morale of its combat forces.
On Wednesday, the Army Chief, Kenneth Minimah, visited Baga where he announced that troops who liberated the town will be automatically promoted to the next rank.
A top security chief in Borno state, who spoke on anonymity said Mr. Jonathan was heading to Baga, but refused to give further details.
"Of course the president will be going to Baga today but the trip is not being handled by us here. I believe it is not something big but just a confidence building visit for the troops," the source said.
Mr. Minimah, a Lieutenant General, had said during his visit Wednesday that given the successes achieved by the troops in Baga, the president might likely visit the troops.