Boko Haram Latest Suicide Bomber In Potiskum Was 7 Years Old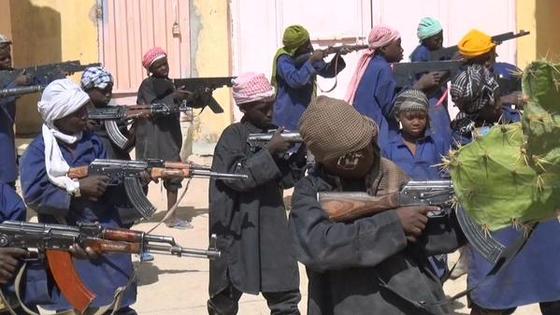 Estimated Reading Time: <1
by Musa Abdullahi & Agency Reporter
The suicide bomber sent by Boko Haram to kill people in Potiskum today looked as young as seven years old, witnesses said.
[Pictured are Boko Haram child soldiers learning to aim guns]
It was the first time the bloody insurgents would pick a child so young on a mission of death. Most young girls used before were aged above 10 years.
The 'baby' suicide bomber Sunday blew herself up today and five others when the explosive devices strapped to her body detonated in the GSM market in Potiskum, Yobe State.
Nineteen others who sustained various degrees of injury were taken to hospital after the blast, a local vigilante leader told Agency France-Presse.
Deploying a seven year old on a suicide mission, may signal that the insurgents are lacking in the 'manpower' for dangerous assignments.
The insurgents recently published photographs of boys being trained to handle AK 47 guns.
A large number of terrorists drowned in the Lake Chad as they fled the heavy bombardment by Nigerian Air force heralding the advance of Nigerian troops on mission to flush them out of Baga yesterday.
General Chris Olukolade said not even the strategy of mining over 1,500 spots with land mines on the routes leading to the town could save the terrorists from the aggressive move of advancing troops.