National Assembly To Compel Presidents To Address Nation In Amended Constitution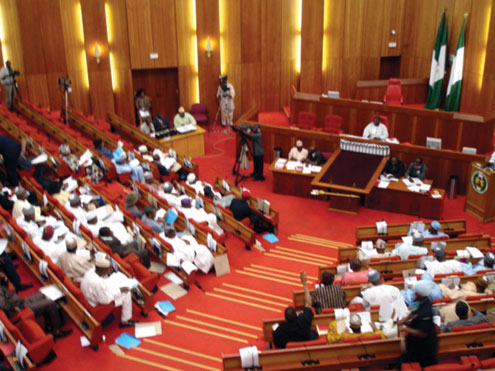 Estimated Reading Time: <1
The National Assembly is to compel the president to appear before a joint session of the National Assembly to deliver a State of the Nation address.
In the amended Constitution, Section 67 is altered by substituting for a new Section 67(1) which states that "a sitting president shall attend a joint meeting of the National Assembly once a year to deliver an address in respect of the state of the nation."
The amended constitution also stipulates that the "president may attend any joint meeting of the National Assembly either to deliver an address on national affairs including fiscal measures, or to make such statement on the policy of government as he considers to be of national importance."
President Goodluck Jonathan withheld his assent to the State of the Nation address bill passed by the National Assembly in 2013.
In the report of the Committee on the Review of the 1999 Constitution submitted by Deputy Senate President Ike Ekweremadu, 20 states voted against local government autonomy while 16 states voted in support.
The states that voted against include Akwa Ibom, Bayelsa, Borno, Cross River, Delta, Ebonyi, Ekiti, Enugu, Jigawa, Kaduna, Kano, Katsina, Kwara, Lagos, Ondo, Osun, Rivers, Taraba, Yobe and Zamfara.
However, Adamawa, Anambra, Abia, Bauchi, Benue, Edo, Gonbe, Imo, Kebbi, Kogi, Nasarawa, Niger, Ogun, Oyo, Plateau and Sokoto states supported the clause but it fell far below the required 24 states.
The fourth amendment also empowers the Independent National Electoral Commission (INEC) to deregister political parties that failed to win any seat in the election.