Nigeria's Boko Haram Harvesting Human Organs & Exporting To The West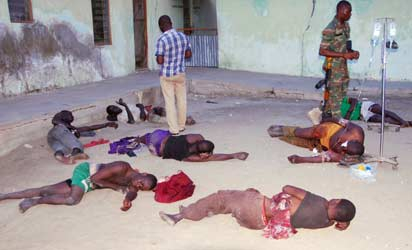 Estimated Reading Time: <1
by Dia Zamani
Global Prolife Alliance Council on Health and Society is alleging that Nigeria's Terrorists Group Boko Haram are also in the business of harvesting human organs just like ISIS are said to have been doing.
The United Nations is looking into claims that ISIS — already considered the wealthiest terrorist group on record — may be harvesting organs from slain civilians and gaining financial benefits by trafficking the body parts, officials said Wednesday.
Dr Philip Njemanze in a message to NewsWireNGR says a close look at the images from the clashes  carried out so far shows a pattern of injury of the victims with a right or left flank cut and bleeding. Some survived!
Another story also attached is that Boko Haram kills 3 doctors,  (here) beheads one and 25 medics killed thus far. Experts at the Global Prolife Alliance (GPA) examined these images and others released thus far by JTF and others. It shows a clear pattern of central chest, or abdominal injury or flank injuries.
These are operation injuries related to ORGAN HARVESTING of heart, kidneys, Liver and other internal organs. The story of killing medics is very relevant because these are potential expert witnesses and the Killing of Doctors will mean that hospitals in the North East Area will close.
The Boko Haram will have full access to harvesting organs of the civilians (here). The kidnapping of the Chibok Girls and the eye-witness accounts by female victims who were captives indicate that they were grossly violated and drugged which indicates that they may have been used for harvesting ovarian eggs after injections with hormonal drugs. The Chibok Girls kidnapping and others must now be seen in another point of view that the women are being used by for human ovarian egg pouching.
The GPA has long maintained that the Boko Haram mercenaries were hired by Biotechnology companies and the International Organ and Egg Trafficking Cartel. The recent events have confirmed our worst fears that it is already on-going. The fact that the Cartel could through bribery and corruption insert both Human Organ and Ovarian Egg pouching in the National Health Act 2014 now law in Nigeria shows that their battlefield aims have also been achieved by legislative act.
However, the prospects for non-implementation will make the battlefield harvesting of organs and human ovarian eggs a long-term goal.
The Questions are: For whom are the organs meant? Answer: The rich patients in Western Countries. For Whom are the ovarian eggs from Chibok girls meant for? Answer: The Western Biotechnology Companies involved in Tissue Cloning experiments. Who is therefore sponsoring the Boko Haram insurgency? Answer the Western Biotechnology Companies owned by Western Billionaires! The Logic is clear!