Ventures Africa Features Nigeria's Number 1 Blogger, Linda Ikeji Whose Blog Is Valued At N1.1Billion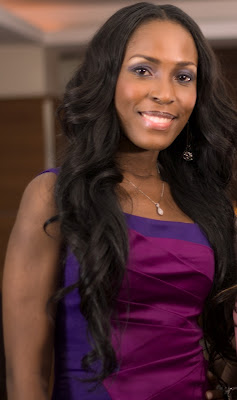 Estimated Reading Time: <1
by Elizabeth Otu
Technology and Business Magazine Ventures Africa features Popular Nigerian Blogger, Linda Ikeji who started blogging in 2006. According to the report, Ms Ikeji never envisioned the amount of success it would become, neither had she the slightest hint that she will become a role model entrepreneur to a teaming amount of unemployed Nigerian youths.
"I started blogging out of passion. Something I never thought I could make money from." Linda has over the years, managed to carve a niche for herself as a blogger extraordinaire, and also enlightened Nigerians to the business of blogging. What started as a hobby for her is today valued to be worth N1.1Billion.
Ventures, Hadassah Egbedi, reports that having been a model for eight years, Linda attempted a career in journalism, but this did little for her livelihood. Linda developed an interest for, and started blogging after reading a story of herself on BellaNaija, one of Nigeria's most popular blog.
Like most start-up entrepreneurs, Linda said she faced common challenges in the birth of a business; her blog, www.lindaikeji.blogspot.com, didn't garner attention or profit until August 2010, when someone sent her a mail requesting for her advert rate.
"I started blogging 2006, and I didn't start getting that many readers until 2007. I ran the blog for like four years without making money, but August 2010, someone sent me a mail and said can I have your advert rates. And I was like what does that mean? I had to call another friend of mine who was a blogger and I asked him, what's an advert rate?" she said during an interview on The Juice.
Having acquired knowledge of what an advert rate is, Linda started off charging paltry sums for adverts broadcast on her blog, until a company offered her a huge proposal for an advert. Then it dawned on her what great business opportunity lay in her hobby – blogging. Now she charges up to $8000 a month, for specific ad spaces on her blog, handling PR services to the most premium brands in Nigeria and even for government agencies. This is in recognition of the amount of followership her blog commands, both within Nigeria and the Diaspora.
Linda's blog according to Ventures Africa has become a one-stop for many Nigerians to get first-hand information, as well as a content provider for other blogs.
"Through her Blog, she has become a voice for social change, making impact to the lives of several Nigerians and Africans in General" the story reads.
In 2012, she published a story of a 19year old girl, Blessing Effiong, who was unlawfully detained for four years. Linda also went ahead to get Miss Effiong out of prison, with the help of a few influential friends.
Earlier in the year, Ms Ikeji started an opportunity tagged 'I'd Rather Be Self-made' to help young women realize their dreams by helping them grow their business ideas.
'I'd Rather Be Self-Made' is not a foundation, or an organization, it's a platform whereby she can meet up with young ladies, inspire one another, exchange Business Ideas and support their dreams. Entrepreneur Ikeji, is willing to finance some of the Business Ideas, not as a loan, but 100% non-returnable. She's offering N250,000 to N1million per person, depending on how great the Business Idea is. She will also use her Blog to help that lady promote the business.