Police IG Cautions Mbu Over Mass Killing Call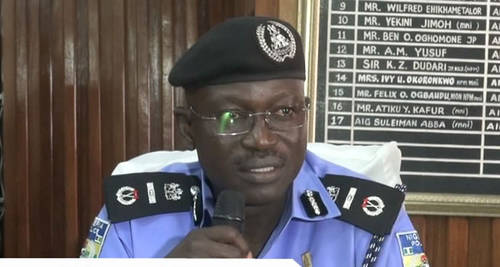 The Inspector-General of Police, Suleiman Abba, has moved to reject the mass killing call made by AIG Zone 2 Police Command, Joseph Mbu. Abba, rather, cautioned personnel of the force against the use of firearms during the forthcoming general elections "except in extreme circumstances".
In a statement, the Police Public Relations Officer, Emmanuel Ojukwu, on Saturday, said Mr. Abba gave the warning when he addressed senior officers in his office. NAN reports.
Mr. Abba said that the Nigeria Police has "a mandate to save and protect lives, and not to kill, contrary to recent statements in the media".
NewsWireNgr reported that, controversial Assistant Inspector General of Police, Joseph Mbu, had said the police in his division will kill 20 persons for the death of a police personnel.
"If one of my men is killed, I shall kill twenty of them but don't shoot first," Mr. Mbu said. "If they shoot you, shoot back in self-defence. Anybody who fires you, fire him back in self-defence," he said.
The remarks have drawn widespread condemnations, with NewsWireNgr reporting of a reaction from the All Progressives Congress, APC, calling for Mr. Mbu, as a law enforcement officer, to be immediately cautioned.
In his statement, the Police Inspector General, said in spite of provocation, attributes of a police officer as contained in the Police Regulations, requires him to exercise "tact, patience and tolerance and control of temper in trying situations''.
He also cautioned the personnel against excesses and reminded them of the dire consequences of abuse of human rights as contained in the recently released Human Rights Practice Manual of the force.
Mr. Abba restated his avowed commitment to observance of the rule of law and the respect of the fundamental rights of citizens by all police officers.
"The rule of law is the underpinning tenet of democracy which will guide police officers in the discharge of their roles in the forthcoming national elections,'' he said.
He restated the preparedness of the force to provide the requisite security before, during and after the elections.