"Unlike Others Reputed For Looting" Olukolade Lampoons Niger's Defence For Calling Nigerian Soldiers Cowards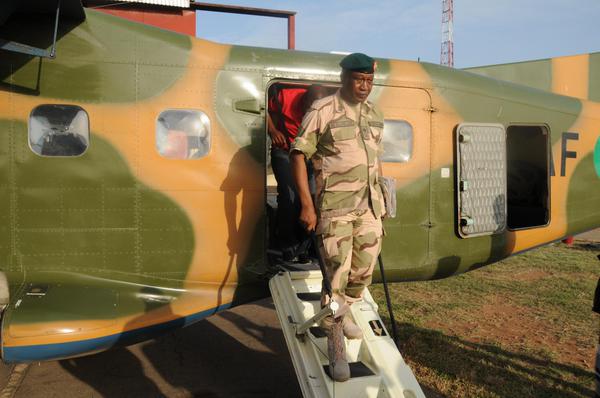 Estimated Reading Time: <1
The Director of Defence Information, Major General Chris Olukolade, on thursday responded to a rude, irksome comment contained in a release signed by Niger's Defense Minister, Mahamadou Karidjo which suggests that Nigerian troops are cowards. According to the Nigeriens on their Army, they said; "Our Soldiers Are Not Like Nigerians, They Don't Run"
Gen. Olukolade who rose in defense of the Nigerian Military released a statement via social networking site, Twitter said the Nigerian Military is a Professional Military that accords it's neighboring forces due respect while condemning the irresponsible comment by the Nigerien Defence describing it as crossing the boundaries of respect by the 'poor country', he said:
He said, "Nigerian Soldiers remain undaunted despite attacks and insults. They have been maximizing the use of available resources to keep at bay these terrorists who keep flooding in from around. Our troops have with due decency & professionalism respected borders.
"Unlike others reputed for looting, mercenary engagement/collaboration with terrorists as a way of surviving the poverty in their country. Our soldiers have remained professional & sacrificial in protecting their fellow Nigerians, preserving the nation's assets.
Despite these jeerings, insults & ill wishes from within or without Nigeria, the Nigerian Soldier has not & will not be deterred. He remains the gallant, brave and patriotic Nigerian Soldier. Although these battles continue, and others are now joining him, never mind; very soon, it will be #VictoryforNigeria. The Nigerian Military remains a great asset and the envy of other Nations.
He also called on Nigerians to be patriotic, suggesting that despite our internal squabbles and wrangling we must not allow an outsider disrespect our nation, while condemning political actors who "to the press with the Nigerien gaffe hoping to embarrass our military or government. But nobody will disrespect my Mother!"
"We don't cross our boundaries. It is unacceptable for any Foreign Government to say our Soldiers run. This is your Motherland! Defend Her!"
Olukolade condemned the unpatriotic action of politicians who obviously were promoting the story and defended Niger against the Nigerian Military suggesting that they might indeed be sponsors of the untoward remark in their characteristic efforts to ridicule the Military.
"Poor Niger! Treacherous ones amongst us accorded them effrontery to insult our troops to gain bad press. Don't compromise your Patriotism!"
He also had a final punch for the Niger Government; "Our soldiers have been defending our people & Nations wealth from mercenaries supplied to Boko Haram by those who boast that they don't run" he added.