Emefiele Praises Nigeria's E-payment Growth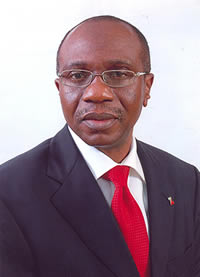 Estimated Reading Time: <1
The Governor of the apex bank in the country, the Central Bank of Nigeria (CBN), Mr Godwin Emefiele has lauded the country's impressive growth in the electronic payments system in the last eight years. Emefiele said this at the inauguration of the payments system strategy board, payment scheme boards and initiative working groups on Friday in Lagos.
He said that the CBN's efforts to ensure that Nigerians move away from cash economy had been progressive, particularly through the Cash-Less programme. Emefiele said that it was important to deepen the use of e-payments in the country as a major economic force within Africa and because it had become an active player in the global economy.
The CBN governor remarked that the country would to continue to participate actively in payment system in accordance with global best practices. The News Agency of Nigeria (NAN) recalls that in March 2007, the CBN launched the Payment System Vision 2020 (PSV2020), to transform the nation's payment system.
"This programme started in 2007 and some progress have been made through the cashless initiative by making sure that Nigerians move away from cash economy into a cashless economy.
"I think we have made some progress in that direction and what we are trying to do is to further deepen this initiative and try to see how we could further eliminate the use of cash in our system.
"Here, what we are saying is if you want to make a bill payment ,you want to do anything, we should begin to see ourselves as an economy that will do without cash.
"We also need to reduce the use of cash, cheques but embrace electronic payments system and get as many people as possible who are currently excluded to begin to be included.
"That is why you will find that the membership of the board and technical committee set up cut across not only the banking system but government and private institutions.
"We have made some significant achievements so far in this journey but lot still remains to be done," the governor said. He said that the CBN had been able to record some achievement which include the implementation of Nigeria Uniform Bank Account Number (NUBAN).
Emefiele said that the initiative had led to the deployment of new RTGS that was built on the Society for worldwide Interbank Financial Telecommunication (SWIFT) messaging standard. He added that the initiative also included the introduction of Cash-Less policy and deployment of the Scrip less Securities Settlement System (SSSS), among others convenient solutions to financial transactions in the country.