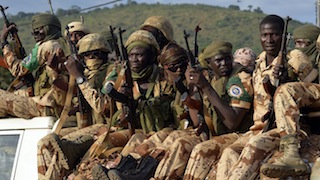 Chadian Army forces have killed 123 Boko Haram militants, as they lost three soldiers, during an onslaught by the insurgents on the Chadian Army. PM News reports that, this happened after the insurgents attacked a Chadian army contingent in northern Cameroon, the Chadian military said.
Twelve soldiers were wounded in the attacks staged by the Islamist group on Thursday and Friday in the Fotokol region, according to a military statement read out on national television.
It would be recalled, that in her bid to show solidarity with her African neighbours, the Chadian army had sent a convoy of troops and 400 military vehicles into neighbouring Cameroon to deal with the growing threat Boko Haram poses in the region.