Eight Thousand Displaced After Mungonu Attack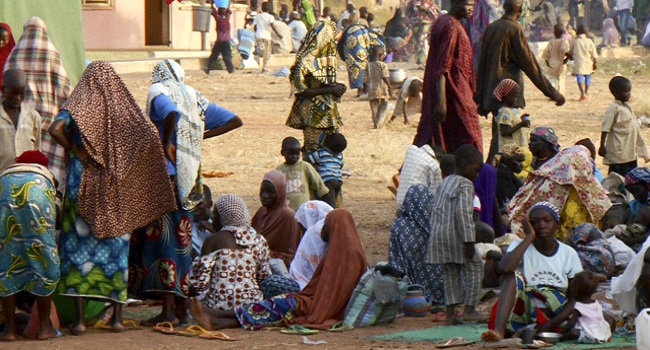 Estimated Reading Time: <1
At least 8,000 persons have been displaced, having fled Mungonu to Maiduguri, after the attack on the village by Boko Haram members on Sunday Jan. 25th. The North East Zonal Coordinator of NEMA, Mr Mohammed Kanar disclosed this to newsmen yesterday January 26th. He said the agency had registered 8,000 internally displaced persons (IDPs) in Maiduguri, the Bornostate capital, for fear of being caught in the cross fire.
The coordinator expressed worry over the increasing number of IDPs in Maiduguri, the state capital, while the Information Officer of the Agency, Mr Abdulkadir Ibrahim, part said the agency in collaboration with Red Cross officials and security operatives have been mobilized to ensure adequate and proper care of the victims.
"We have set up an emergency response team and they have provided them with drugs and drinking water as immediate measure aimed at managing the situation", he said. The team, according to him, will revisit the camp and distribute relief materials such as food items, mattresses, mats, blankets, mosquitoes nets among others.
"We want to also use the opportunity to inform all the fleeing residents of Mungonu that government in collaboration with other humanitarian agencies are committed to addressing their pathetic situation", he added.
It was reported that Mungonu is currently under the control of the dreaded sect members the Boko Haram as Nigerian troop have withdrawn from the area.
Troops of the Nigerian Army had repelled attacks by the insurgents as they simultaneously launched attacks on Mungonu and Maiduguri. The military launched coordinated air and land strikes on the insurgents in pursuit of the retreating Boko Haram members.
A curfew has been placed on Maiduguri, the Borno State capital, till further notice after members of the attacked on Sunday morning. Mungonu is about 126km north of Maiduguri the Borno state capital.