"Osinbajo Has 5,000 Churches So Don't Vote For Buhari" – What Vice President Namadi Sambo Said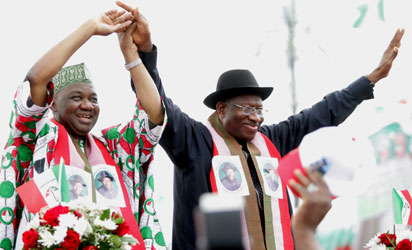 Estimated Reading Time: <1
The Political Parties already at the last minute campaign season and all applied to woo for votes and they've had to move from religious sentiment to tribal.
Latest amongst the famous statements has been attributed to Nigeria's Vice President, Namadi Sambo who is also on a joint ticket as Goodluck Jonathan of the ruling Peoples Democratic Part asking for a second term mandate.
At the Presidential campaign rally of GEJ/Sambo in Jigawa state on January 21st, 2015, in the presence of President Jonathan, Vice President Namadi Sambo is alleged to have stated the following in Hausa: "Buhari ya dauko pastor a matsayin mataimakinsa kunsan coci nawa yake dashi? Yanada coci 5000, don haka karku zabesu." The translation is – "Buhari has selected a pastor as his running mate, do you know how many churches he has? He has 5000 churches, so based on that, don't vote for them".
Sambo also said at the rally that the PDP is the most Islamic Party in Nigeria because nobody can be more Muslim than him. He said that his name is Namadi which is a derivative of Na'Madina, meaning someone from the Medina in Saudi Arabia.
At the Rally in Jigawa State Sambo also stated that he goes for the Hajj every year.
He further mentioned the names of key ministers in the Jonathan administration including Defence Minister, Aliyu Gusau, NSA, Sambo Dasuki, Inspector General of Police, Abba whom he emphasized are all Muslims. He also mentioned all the Muslim ministers from Kano, including Aminu Wali, Foreign Affairs Minister and Shekarau, Minister of Education.