Goodluck Jonathan Compared To Idi Amin Of Ugandan In Aggressive Pro- APC Advert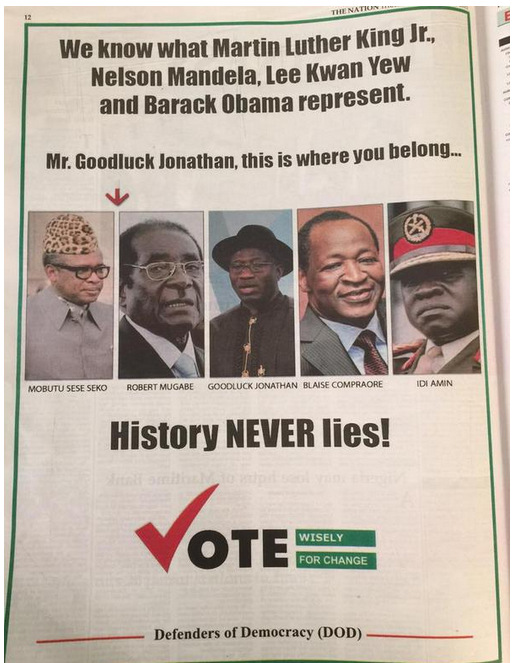 Estimated Reading Time: <1
A political group, Defenders Of Democracy placed this advert on The Nations newspapers, saying he should stop comparing himself to the likes of Barack Obama, Nelson Mandela, Lee Kwan Yew and Marting Luther King, that he belongs to the likes of Idi Amin, Mobutu Sese Seko, Robert Mugabe.
For the Defenders Of Democracy, they're a faceless group as compared to Ayodele Fayose's campaign published by Punch Newspaper and Sun Newspaper also attacking the candidate of the Oppostion political party.
NewsWireNGR recalls that during the week, the Ekiti State Governor, Ayodele Fayose, hit hard at All Progressives Congress candidate in an advertorial that was condemned by the electoral umpire and majority of Nigerians.
It's an election season in Nigeria and both sides are obviously going all out to woo electorates even taking to hate messages..
Peoples Democratic Party candidate, Goodluck Jonathan and Muhammadu Buhari of APC will be slugging it out come February 14, 2015 at the polls in a bid to preside over the affairs of Nigeria..
When the advert was published by Fayose, the Goodluck/Sambo 2015 campaign organisation has distanced itself from the controversial Newspaper advertorail against the candidacy of APC Presidential Flag-bearer, General Muhammadu Buhari.
Here's another Fayose advert on Buhari…..