Bangalee In Debt Mess: See Photos Of Court Summons Pasted On D'banj's House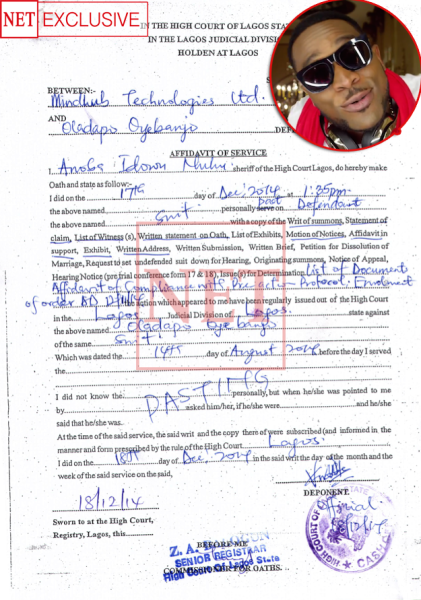 Estimated Reading Time: <1
NETNG is Exclusively reporting that court summons Nigerian singer, Dapo Oyebanjo over debts.
Dapo popularly known as D'banj is beginning the year 2015 on a positive note with plans of his 10th year anniversary already in motion. In fact, the first leg is kicking off on January 31, 2015 with a party in Lagos tagged Feeling The Nigga Weekend.
However, the yet-to-be-addressed debt mess from the last quarter of 2014 continues to trail Bangalee, as he prefers to be called now….
In 2014, it was reported that the pop star seems to be going through an unpleasant period in his career as some people who claim to be owed by D'banj are threatening a legal action against him and with the photos the summons have started coming in.
It was said that the issuance of dud cheques and non-payment of accrued debts top the list of infractions against the DB Records boss who now calls himself Bangalee.
As things stand, D'banj may be dragged to court by a top oil and gas industry player, Henry Ojogho, Vice Chairman of Broron Group. Ojogho, who is also the Vice Chairman of MindHub Tehnologies, an integrated Rice farming and milling production company, alleges that D'banj, through his company, DKM Media Limited, obtained a loan of over N60m from him in January 2013 and has not paid back the said sum despite signing an undertaking to do so.
See More Photos Exclusively by NET Ng..