Kaduna Shut Down For Muhammadu Buhari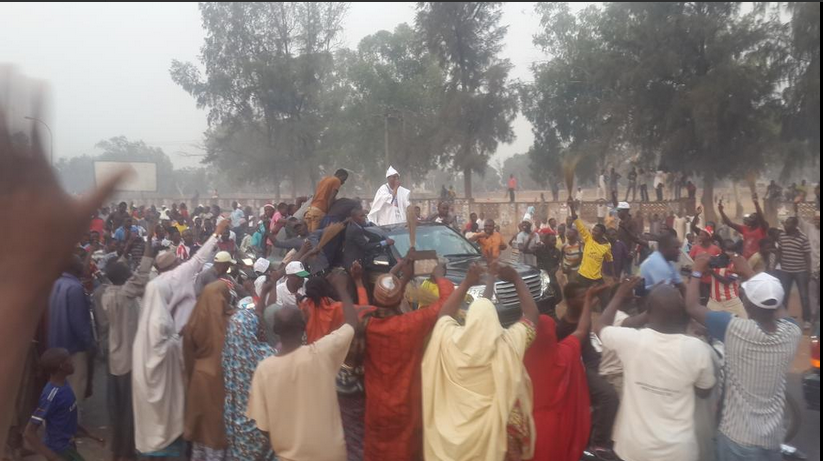 Estimated Reading Time: <1
Former military Head of State and presidential candidate of the All Progressives Congress (APC), Gen. Muhammadu Buhari (rtd.), has asked his supporters to protect their votes in the February elections.
Buhari at a rally in Kaduna on Monday, urged his supporters to ensure that they escort their votes after voting.
"We are calling on you, on February 14, pick your voters' cards, vote, protect your votes, escort your votes and wait," he declared.
The APC presidential candidate who arrived at the Murtala Square venue of the event at about 6:35 p.m. after keeping a mammoth of supporters waiting, said Nigerians would witness a remarkable change two years into his administration as president if elected.
Buhari who addressed the crowd in Hausa language, said his administration would focus on security, the economy, education and health.
"Anywhere I go, I speak about three things that are major challenges to us as a nation since the Peoples Democratic Party (PDP) came to power 16 years ago
"First is security. There is no security in this country. If there is no security, nobody can go about doing business.The second issue is the economy of the country. The third issue is corruption" he said.
He said further that: "By the grace of God, if you come out to vote for us on February 14, and the remaining elections of February 28, we will address the challenges of insecurity.
"On the issue of unemployment, you in Kaduna are aware of the many industries that used to be here. We used to have companies like the Nigerian airways, the Nigerian Railway and others, but since the PDP came to power 16 years ago, these companies have collapsed.
"If we vote APC, we are helping ourselves. We will renovate and equip our schools and employ teachers. We will renovate our hospitals, equip them and supply them with drugs
"We will rehabilitate the entire bad roads. By the grace of God, within two years into my administration, if elected, Nigerians will see a remarkable difference.
"We are out to work for Nigerians; it is not out of greed that we came to this place. We don't want our country to go bad. So long as we are breathing, we will not allow things to go bad in this country.
"We believe in democracy, and that is why in spite of the fact that we were shortchanged in 2003, 2007 and 20011, we did not ask anybody to go and kill or slaughter anybody, we went to the courts."