Jonathan In Anambra Says N10bn Spent On Second Niger Bridge, Obi & Obiano Reconcile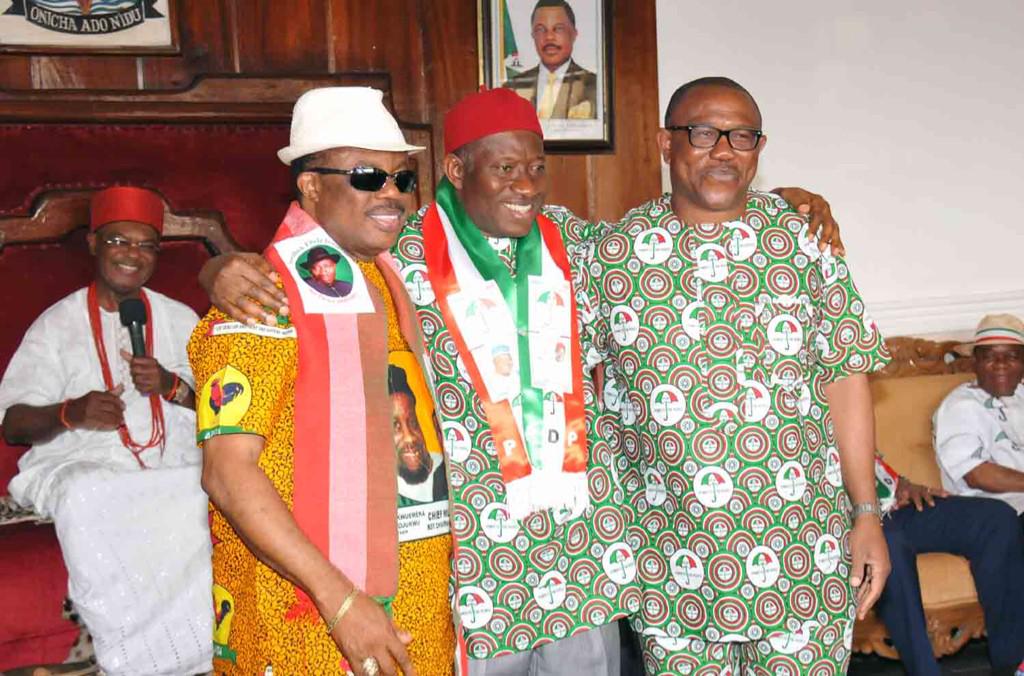 Estimated Reading Time: <1
Federal Government has spent N10bn, out of the N130bn total project cost, on construction of 2nd Niger Bridge, says President Goodluck Jonathan, at the project site in Asaba.
Jonathan assured Nigerians that the second Niger Bridge, which will ease the load on the Niger Bridge with traffic flow to and from Southsouth and Southeast zones, will be completed within the next 40 months.
Jonathan went on inspection tour of the bridge construction site before visiting the Obi of Onitsha preparatory to his Anambra State presidential campaign rally on Saturday.
Criticisms abound about the slow pace of work on the bridge, with some critics saying that nothing was happening at the site.
Jonathan told the traditional ruler of Onitsha, Obi Alfred Achebe, that he was satisfied with the pace and quality of work done so far at the construction site.
Anambra State Governor Willie Obiano, Vice President Namadi Sambo, Obi Achebe, former governor Peter Obi and other dignitaries were at the meeting held at the palace of the King. . The former Anambra governor and incumbent also reconciled over their rumoured disagreement.
The President said what he saw on ground had boosted his morale, expressing confidence that the bridge would be completed within the next 40 months.
In his explanation, he said out of the N130 billion contract sum, N10 billion had already been spent out of which N1.5 billion was used to pay compensation for damages to property owners at the site.