"Don't Jettison The PDP" Jonathan Pleads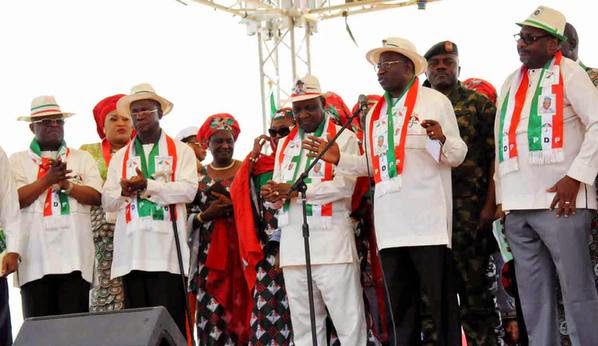 Estimated Reading Time: <1
The National leader of the People Democratic Party( PDP), President Goodluck Ebele Jonathan has called on aggrieved party stalwarts not to leave the party.
The President made this plea, during his Presidential rally stop, at Abakaliki Township Stadium, Ebonyi State. President Jonathan made this plea, noting that, it is normal for party members to be aggrieved, especially public office leaders, who lost their seats during the party primaries.
However, he stated that, such issues shouldn't not drive them away, rather they should work together to make the country, better for it. The President said that, it is normal for issues of discontent to arise when it concerns humans and that the grievances of members, was not peculiar to the PDP, as other parties also had issues, or even worse.
Speaking to the supporters, who came en masse to welcome him to the state, the President commended the peaceful nature of the state and pledged to be given the mandate to maintain that peace. President Jonathan also applauded the performance of the state's Abakaliki rice which had become popular in the grains market.
He reiterated the commitment of his regime, if re-elected, to continue to provide enabling environment for agricultural growth and expansion. He also admitted that, he knows and understands the plight of the state, as it shares similar issues with neighbouring Bayelsa, his home state. He asked for more time, to consolidate the good works of transformation, so that all would benefit from the giant strides.