Muhammadu Buhari In Benue Promises To Restore Discipline In Nigerian Military, If Elected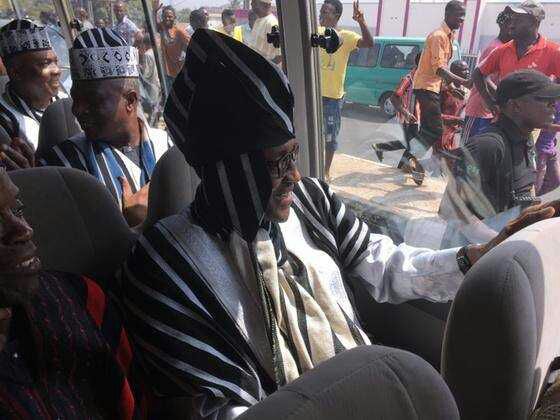 Estimated Reading Time: <1
The Presidential candidate of the All Progressive Congress (APC), Gen. Muhammadu Buhari, has promised to restore discipline and ensure motivation, to the Nigerian Army, if elected President. Gen. Buhari stated this, at the presidential rally in Makurdi, the Benue state capital. He cited the recent alleged interview, granted by a Nigerian soldier, as a lack of discipline and motivation, in the force.
The Presidential hopeful reiterated that, when elected, soldiers won't have to complain of buying their own uniforms or underperform, due to a lack of weaponry. He stated that, the Nigerian military has the capacity to deal with the security challenges plaguing the country, but with proper motivation and discipline.
While also addressing the mammoth crowd at the IBB square, the retired General, assured the people of agricultural expansion, once elected. Gen. Buhari made reference to the abundant agricultural potentials in Benue state, as the food basket of the nation, but decried that such potential hasn't been fully utilised.
The rall?y also had in attendance, prominent members of the All Progressive Congress, both of Benue extraction and neighbouring states. Dignitaries such as the Senate minority leader and former governor of the state, George Akume; serving Senator and former National Chairman of the PDP, Barnabas Gemade and serving governor s of Nassarawa and Rivers states; Gov. Tanko Al-makura and Gov. Roti might Amaechi, as well.