"Watch The Watcher" Odumakin, Other Yoruba Leaders Counter Obasanjo On Autobiography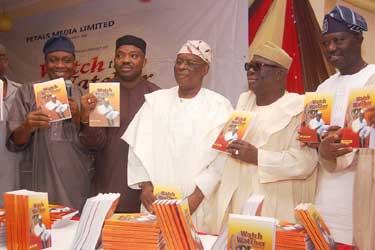 Estimated Reading Time: <1
Weeks after launching his controversial book, My Watch, the entire life history of former president Olusegun Obasanjo came under critical scrutiny in another book authored by the National Secretary of Pan-Yoruba group, Afenifere, Mr. Yinka Odumakin.
Odumakin, in his 280 pages book titled: 'Watch the Watcher: Book of Remembrance of the Obasanjo Years," presented Obasanjo as a former leader who lacks the moral grounds to criticise any administration in Nigeria.
Vanguard gathered that the five-part book which covered the period between when Obasanjo was the military Head of State, out of office and when he became the elected president till when he launched his latest book, raised questions about his pedigree, chronicled his negative activities as military Head of State, especially the mysteries surrounding his roles in the military coups in which he managed to be the luckiest survivor and beneficiary.
It also focuses on some of the undemocratic tendencies and human right abuses of his administrations.
The book also reiterated some of the revealing document about Obasanjo's personality, especially the letter written by his daughter, Senator Iyabo Obasanjo-Bello, the autobiography of one of his wives, Mrs. Oluremi Obasanjo and the open letter by the late Chinua Achebe when rejecting national honour presented to him by Obasanjo's administration, among several others.
Although in the book, Odumakin alleged through direct charges and innuendos, that Obasanjo committed much of his career to the destruction of the Awolowo legacy and Awolowo's loss to Shehu Shagari in the presidential polls of 1979 and 1983 was cited as illustrations of his sinister schemes.
Former Ogun State governor, Chief Olusegun Osoba, who also contested the credibility of the Obasanjo book, noted that the launch of Odumakin's book is an event to put the records straight.
"Many aspects of the book written by former president, Olusegun Obasanjo need correction. He was at the centre of all the negotiations to broker a political agreement between Alliance for Democracy (AD) and the Peoples Democratic Party (PDP) in 2003.
"For him to say he knew nothing about it, I totally disagree with him because the final meeting with him was attended by highly placed Nigerians, a highly placed royal father, the Awujale, Pa Adesanya, Bishop Gbonigi, Bishop Ladigbolu, Chief Ayo Adebanjo, all the governors and a host of others," he maintained.
Osoba also punctured Obasanjo's claim that he did not nurture a third term agenda, insisting that the former military Head of State agitated for it.
According to Osoba, "The Watcher (Obasanjo) wrote a book which Wole Soyinka has given his verdict. I am also going to give my verdict when I write my book. That he (Obasanjo) does not know about the pact with the AD governors is far from the fact.
"To correct him, it was July 2002, he (Obasanjo) came the graduation at University of Lagos, we met at the office of the old Head of State. It was there that he almost went on his knees that we, the AD governors, should support his second term ambition.
"We (AD governors) told him that we were not the founding fathers of AD. We told Abraham Adesanya but he (Adesanya) said he would never go to Abuja. He later agreed that he would meet us at the presidential lodge. Abraham Adesanya never met him at Abuja but at the slightest notice Obasanjo came to Abeokuta.
"Back then Adesanya told him (Obasanjo) that he heard he was going to ambush us (AD governors). Present that day was , the Awujale and Chief Cornelius Adebayo, Bishop Ladigbolu, Chief Ayo Adebanjo, all the AD governors and a host of others.
"So, I'm shocked and surprised that he wrote in his book where he said he knew nothing about the third term agenda which he said God would have given him if he had asked God."
Other notable personalities such as the Ondo State Governor, Dr. Olusegun Mimiko, represented by Mr. Shola Ibiseni; Minister of Police Affairs, Alhaji Jelili Adeshiyan; FERMA chairman, Engineer Jide Adeniji, the book reviewer, Professor G.G Darah, Labour Party (LP) scribe, Mr. Kayode Ajulo; Colonel Tony Nyiam (rtd), Col Bello Fadile, Mr. Akin Osuntokun and Lagos PDP chairman, Tunji Shelle were among those present at the book launch.