11 Presidential Aspirants Are Expected To Contest The February 14, 2015 Elections [See List]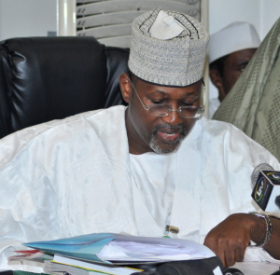 With the expiration of today's deadline for the substitution of presidential candidates for the February 14 presidential election, President Goodluck Jonathan and General Muhammadu Buhari are now confirmed as their political parties can no longer replace them as flag bearers of Peoples Democratic Party and the All Progressive Congress.
Their fates as presidential candidates appear to have been sealed as? today is the last day for presidential candidates to withdraw from the contest and for their parties to field new candidates according to the electoral guideline set by ?the Independent National Electoral Commission (INEC).
With this, INEC would print their names on the ballot papers, whether or not any of them decides to opt out of the presidential election.
The same also applies for candidates ?in the national assembly elections across the country.
Meanwhile the commission on Saturday released the list of the Presidential candidates to run in the 2015 elections.
They are:
Tunde Anifowoshe-Kelani (M) (Action Alliance)
Comrade Paul Ishaka Ofomile (M) (AA)
Ganiyu Galadima (M) (Allied Congress Party of Nigeria)
Balarabe Ahmed (M) (ACPN)
Rafiu Salau (M) (Alliance for Democracy)
Clinton Cliff Akuchie (M) (AD)
Nani Ibrahim Ahmad (M) (African Democratic Congress)
Obianuju Murphy-Uzohue (F) (ADC)
Muhammadu Buhari (M) (All Progressives Congress)
Yemi Osinbajo (M) (APC)
Comfort Oluremi Sonaiya (F) (Kowa Party)
Saidu Bobboi (M) (Kowa Party)
Ambrose Albert (M) (Hope Democratic Party)
Haruna Shaba (M) (HDP)
Martin Onovo (M) (National Conscience Party)
Ibrahim Mohammed (M) (NCP)
Goodluck Jonathan (M) (Peoples Democratic Party)
Namadi Sambo (M) (PDP)
Godson Okoye (M) (United Democratic Party)
Haruna Adamu (M) (UDP)
Chekwas Okorie (M) (United Progressive Party)
Bello Umar (M) (UPP)
…………..