Song Reveals Arsenal Never Wanted Him Back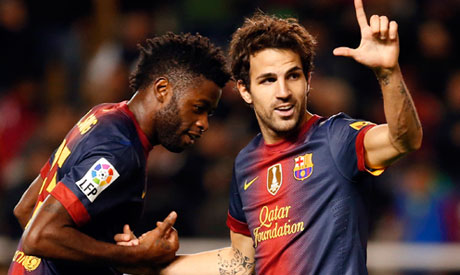 Estimated Reading Time: <1
West Ham midfielder, Alex Song has revealed that he wanted to return to Arsenal for a  second spell after he left Barcelona but the Gunners didn't want him back. Speaking to L'Equipe ahead of his side's Sunday encounter with Arsenal, the 27-year-old made it clear that he had nothing against his old club.
'I would have liked to come back, but they didn't want me'..

'That's life. I'm not mad at them.
He also revealed that his former teammate at Arsenal and Barcelona, Cesc Fabregas hoped to rejoin Arsenal but the Gunners refused and the Blues took advantage.
'Cesc also wanted to come back to Arsenal, who did not want activate their buy-back clause. It was surprising. When I see what he is doing at Chelsea. He is even better than before!'
He made it clear that he turned down the opportunity to play Champions League football for a move back to England
'I could have played Champions League in Italy, with Napoli or Roma, in Turkey,' said Song.

'I could have played in France too, with Marseille. But my priority was to return to England. 

'For me as well as my family. We like it here. I have found a club that I didn't know very well but where things are going quite well.'