Police Parades 13-Year-Old Suicide Bomber In Kano, Says Her Parents Volunteered Her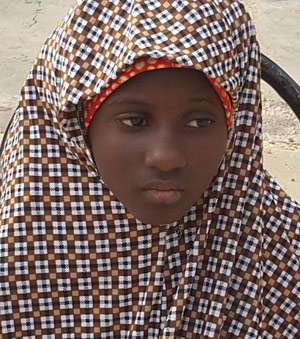 Estimated Reading Time: <1
By Abang Mercy
The Department of State Services and the Nigerian Police Wednesday afternoon paraded a 13 years old female suicide bomber arrested in the wake of attack on Kano textile market.
The arrested female suicide bomber who identified herself as Zaharau claimed to be an indigene of Bauchi State told reporters in Kano that she was recruited into the heinous act by her father.
Zaharau was picked up in unnamed hospital in Kano shortly after the twin blast that rocked the popular textile market in the city on December 10, where she had gone to sought medical attention over an injury she sustained from the blast.
She said her mother and father, both Boko Haram sympathisers, took her to an insurgent hideout in a forest near the town of Gidan Zana in Kano state.
She said one alleged militant leader asked her whether she knew what a suicide bombing was.
"They said, 'Can you do it?' I said no.
"They said, 'You will go to heaven if you do it.' I said 'No I can't.' They said they would shoot me or throw me into a dungeon," Zahra'u told journalists.
There was no way to independently verify her story and she had no lawyer present. No information was available concerning the whereabouts of her parents.
Police said they had instructed the girl to tell her story to boost public awareness about those responsible for the December 10 attack.
Faced with the threat of death, Zahra'u said she finally agreed to take part in the attack but "never had any intention of doing it."
Several days later, Zahra'u said, she and three other girls, all wearing explosives, were brought to the Kantin Kwari market by unidentified men.
Zahra'u said she was injured when one of the girls detonated her bomb and then she fled the scene, ending up at a hospital on the outskirts of Kano where she was discovered to be carrying explosives.
In a related development, a suicide bomber who rammed into a military check point in Bajoga, Gombe State yesterday, failed to achieve his mission.
Major General Chris Olukolade, Director Defence Information in a statement issued Wednesday, said the terrorists attempt to escape also failed as he was brought down by vigilant soldiers when he tried to flee after hitting a military Amoured Personnel Carrier with his IED laden Honda car.
"The explosives which failed to detonate have been evacuated and handed to the police." statement read.s
Also in Kano, security forces have raided the terrorists' hideout in Nasarawa Local Government Area leading to the arrest of bomb making experts who are already helping in the investigation into activities of bombers lately.
"Officers believe that the efforts will yield useful clues.
"Troops deployed in all locations of the counter terrorism campaign have been directed to sustain the tempo of operations all through the period of seasonal celebrations and ensure that the intention of terrorists to attack civilian target while avoiding troops is duly frustrated."
Meanwhile, the Inspector-General of Police IGP Suleiman Abba CFR, NPOM, NPM, mni has reassured Nigerians of round-the-clock safety and security before, during and after the Yuletide.
IGP Abba stated this when he addressed newsmen today 24th December, 2014 at the Custom Command and Staff College, Gwagwalada, FCT after completing a phased aerial surveillance of the FCT and the Kaduna-Abuja-Lokoja Highway.
The Police Chief, who was accompanied by senior Police Officers, added that the helicopter patrol was undertaken to complement the good efforts of Police personnel who are strategically deployed nationwide to ensure safety and security of lives and property.
He further stated that the Nigeria Police and other security agencies are working round the clock to ensure safety and security of Nigerians and enjoined Nigerians to cooperate with the security agencies and report any suspicious persons or group.
This, he said, would enable the Nigeria Police respond to prevent any threat of a breach of the peace.